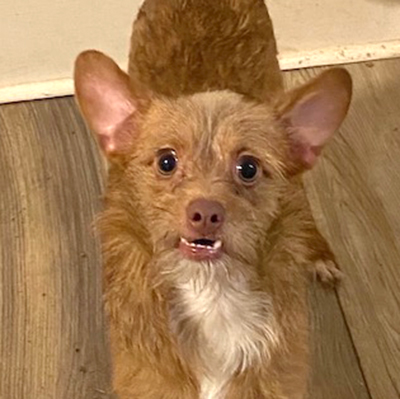 Wilson at a glance:
DOB:
3/29/20
Breed:
Adorable mix
Weight:
18 lbs.
House-trained:
In progress
Good with kids:
Yes
Good with dogs:
Yes
Good with cats:
Yes
Activity Level:
Playful and very sweet
Fenced Yard:
A plus but not required
Please join us in welcoming Wilson…
On New Year's Eve, before we could even say goodbye to 2020, we got a call about a scruffy little guy in a bad spot.
His 4-year-old human brother explained to a relative how he got his black eye and bruises from his dad. Authorities were called and DFCS performed an emergency home visit. The abuse was confirmed, and the children and mother were moved to safety. Wilson was removed from the home, also. The dad had killed Wilson's littermate.
They called him Ugg… because they said he was ugly. We could not disagree more; he's adorable! We're calling him Wilson – and we've promised him a wonderful new life in this new year… with all the cuddles, snuggles and lovies he will ever want. He's currently in a foster home where he's receiving high doses of love and affection, and he's happily soaking up every bit of it.
𝗪𝗲𝗹𝗰𝗼𝗺𝗲, 𝗪𝗶𝗹𝘀𝗼𝗻! 𝗪𝗲 𝗮𝗿𝗲 𝘆𝗼𝘂𝗿 𝗿𝗲𝗳𝘂𝗴𝗲!
Sweet and shy Wilson has been with us a couple days now and he's doing just great! As expected, he's still skittish around fast movements right now. He gets along great with other dogs and he loves people. He'll need a home with lots of love, patience and kindness.
This sweet boy is only 10 months old (DOB: 3/29/20) and he weighs around 18 pounds. He's a multi mixed breed – kind of yorkie-ish and small breed terrier-like.
 His adoption fee is $450 and includes his neuter, Rabies vaccine, microchip, DAPPv vaccines, deworming and other vetting.
Last update:  January 5, 2021