Available Dogs
Refuge Rescue cares for a variety of dogs. We find homes for puppies, adult dogs and senior dogs of various breeds and sizes. Our organization is located in Woodstock, Georgia. Out-of-state adoption applications will be considered on a case-by-case basis. 
On this page you will find our currently available dogs. Please note that we will add new dogs as soon as they become available, so visit us often. We know you will find your next best dog here and our trained adoption counselors will ensure you find the best fit for your home. If you have questions about a particular dog or the application process, contact us today.
Application Process: 
If you are interested in one of our dogs, please read their biography and select the link to the adoption application to begin. Please note the name of the dog you are interested in adopting in the field located in the 'About the dog you wish to adopt' section of the application.  If you are unsure about which dog is the best fit for your home, you may continue the application and simply list the desired traits you are looking for in your new companion and an adoption counselor will contact you to discuss!
You can access the application here or under each dog's individual profile.
Make sure to select submit when you are finished or your application will not be received.
For applications selected, a vet check will be completed.
Our adoption team consists of volunteers. Please allow adequate time for our team to review applications and prepare to address your needs. You will hear back within approximately 5-10 days; or please assume your application was not approved.
If your application is selected, we will coordinate a time for you to meet your match. 
The adoption will be finalized by completing the adoption contract and adoption fee transaction. If you have any questions, please contact us, we will get back with you.
>>> To begin the on-line adoption application, CLICK HERE.
Available for Adoption
(Currently Accepting Applications for the following Dogs)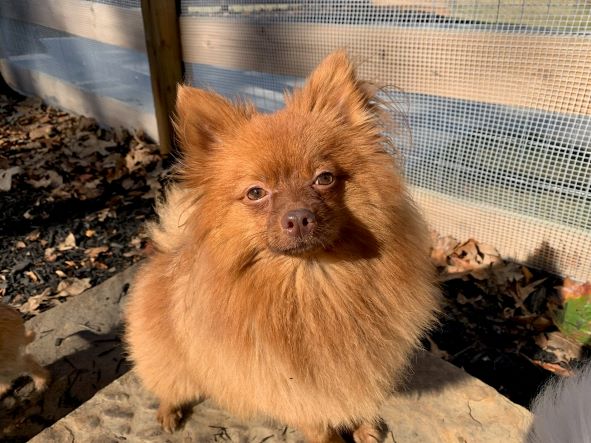 Tang (M)
Breed: Pomeranian
DOB: 3/21/2021
Color: Orange/Red
Weight: 9lbs
Dogs: YES, prefers playful females
Cats: NO
Children: YES, 12 years and older
Bonus: Conversationalist
Non-negotiable Adoption Fee: $800
Tang is one beautiful boy and he surely knows it. He is a confident boy who thinks that you are the lucky one. He is a typical Pom – he has a perfect "catwalk" and twirls from place to place. He is very vocal and has a range of conversations with his humans. Tang LOVES other dogs but typically prefers female dogs because he loves the ladies' attention. He enjoys being groomed and flaunting his stunning full coat – he will let you brush him daily and behaves at the groomer. A multi-dog home would suit him well and older children who respect his beauty and grace are gladly accepted. Tang also enjoys the play freedom of a fenced backyard, especially if other doggie friends are out with him. This gorgeous boy is ready to be loved and adored like the prince he is!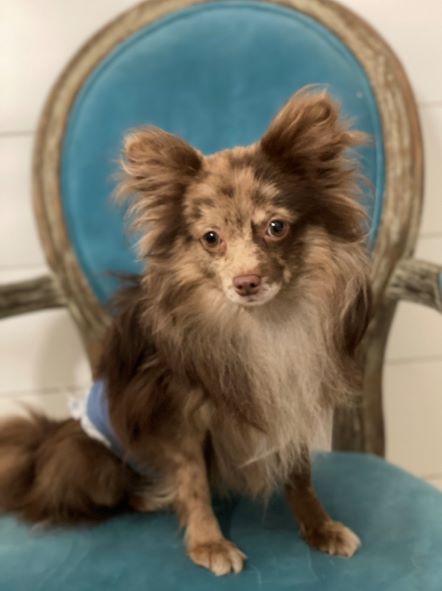 Zuko (M)
Breed: Pomeranian/Chihuahua
DOB: 10/20/2020
Color: Chocolate Merle
Weight: 8.5lbs
Dogs: YES
Cats: NO
Children: NO
Bonus: Once he trusts you, you have a friend for life
Non-negotiable Adoption Fee: $800
Zuko is a stunning chocolate merle Pomeranian/Chihuahua mix. This boy has a full Chihuahua personality though – he is definitely the lead singer of the band. He wants to be admired and flaunted but he has plenty of things to do. When he has finished his rounds of autographs, he chooses to hang out and cuddle. Maybe, like other leads, he is a bit insecure and is searching for a place he belongs; a place he will be able to transition on his own time and learn what it means to be a real member of the family. You see, Zuko came to us after his previous (three) families gave up on him….they didn't allow him to become secure and confident and just wanted to smother and carry him around. Well, sometimes, that's okay…. but sometimes, in Zuko's case, it takes time and trust. He is ready to try but asks that you prove it first. If you think you have what it takes to give this handsome, fun, posh, slightly insecure, deserving boy a chance, apply today and talk to his foster mom about how you can set him up for success and create an unbreakable bond.