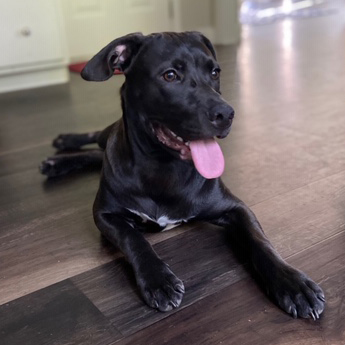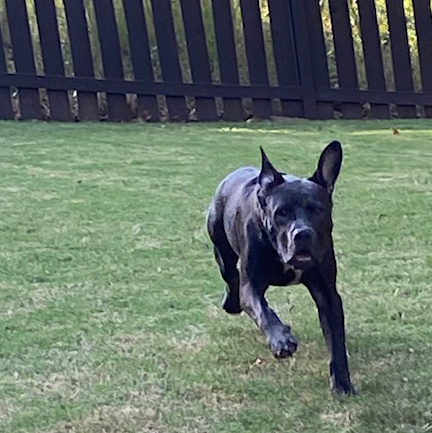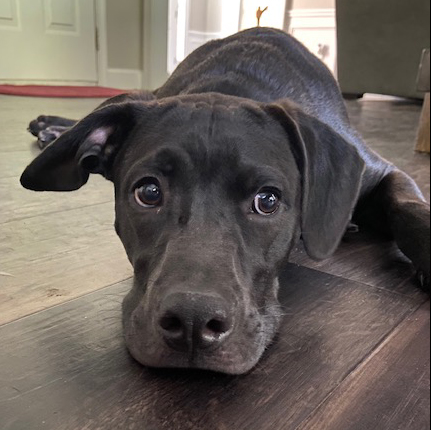 Seven at a glance:
Current Name: 
Seven
Date of birth:
3/27/20
Breed:
Labrador retriever mix
Weight:
42 lbs.
House-trained:
Yes
Crate-trained:
Yes
Good with kids:
Loves children
Good with dogs:
Yes – plays very well with others
Good with cats:
Hasn't met many but probably not
Activity level:
Loves to play but is also a snuggler
Fenced yard:
Required
𝗪𝗘𝗟𝗖𝗢𝗠𝗘 𝗦𝗘𝗩𝗘𝗡!
Talk about a rough start in life! His mommy died giving birth to his litter – and he was adopted out at 3-weeks-old! That is not a typo. He was only three weeks old! Luckily, he landed in just the right place, with a family that doted on him and who held him all day long when he was tiny and needed constant care. Due to their love and attention, he turned out to be an amazingly well-balanced boy. Unfortunately, a big, active puppy in a small apartment just isn't a good fit for anyone, especially for Seven… so we're helping him find his new family.He got his name because of the large, white seven-shaped marking on his chest. He was also the 7th puppy in a litter of seven. As a coincidence, he's also 7 months old right now. He's crate and house trained – and he knows several commands… seven of them, actually… no, stop, cage, sit, stay, go eat, and come here.
Seven loves toys! When we gave him some to play with, he gathered them all up and lined them up in the back of his crate. So, since he's a bit of a toy kleptomaniac, you'll want to keep a close eye on him during any trips to the pet store. He's pretty brave and trusting overall, but he does have two great fears – the vacuum cleaner… and lizards! He'll need bravery, strength and guidance to learn to deal with both, LOL. 
He's a funny, joyful, happy and very playful boy. When it comes to kids, he's very loving and interactive – and he's great with dogs of all sizes, too. He is absolutely thrilled that he has a fenced yard to run in at his foster home and he's really enjoying being able to play with the other dogs there. A fenced yard and another playful dog are must haves in his new home. Seven is a lab mix.
A fenced yard is a requirement and he would love to have a dog buddy to play with. His adoption fee is $450 and includes his neuter, microchip, Bordetella vaccine, Rabies vaccine, DAPPv vaccines, deworming, flea/heart worm prevention and other vetting.
He currently weighs about 45 pounds and still has a lot of growing to do. He needs to be an integral part of his new family. If you think he might be the boy for you, please complete a Refuge Rescue application. 
Last update: October 20, 2020