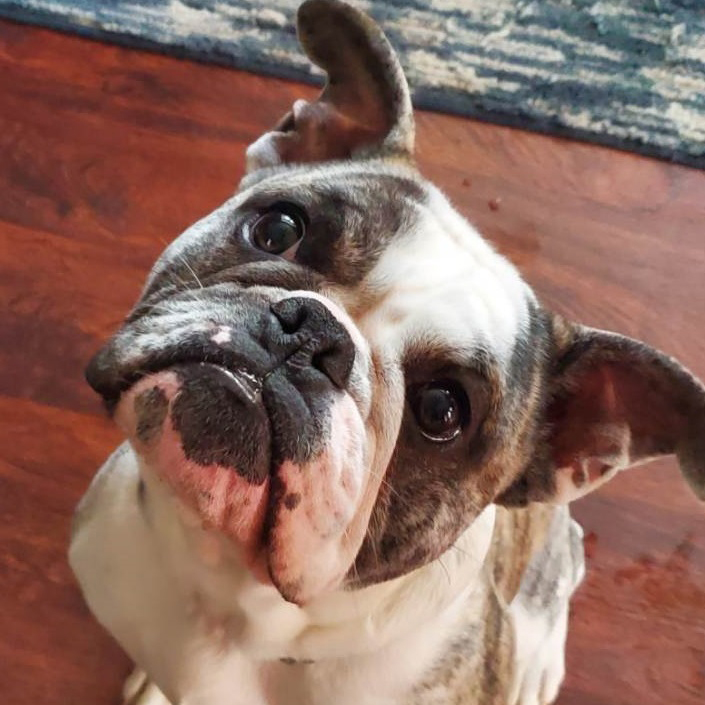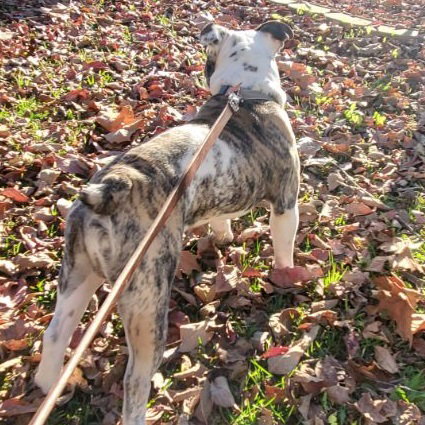 Rylo at a glance…
Age: 
10 months
Breed:
English Bulldog
Weight:
40 lbs.
House-trained:
Yes
Good with kids:
Yes
Good with dogs:
Yes – very playful
Good with cats:
Unknown
Activity level:
High – Loves to play and run
Fenced yard:
A requirement
Meet RYLO
He's a Southern gentleman – and he's English! He's a purebred English Bulldog and he's looking for his forever family.
Also known as George, this boy is super friendly to everyone. His sweet, happy-go-lucky personality makes it impossible not to fall in love with him. He's a wonderful companion – and great with kids and dogs.
His foster mom says he's super affectionate and that he literally hugs you to show you he loves you. He likes to play fetch, loves to go on walks and enjoys running around in a fenced yard. He absolutely hates the rain. He's a natural explorer, loving to investigate… he'll search around the house and get into things, just like any puppy. Although he's a literal ball of energy right now since he's still a pup, we expect his energy level to drop off as he gets older, like most English Bulldogs.
Rylo is 10 months old, house-trained and about 40 pounds. His adoption fee is $600 and includes his neuter, microchip, Bordetella vaccine, Rabies vaccine and other vetting.
If you'd like to make Rylo a part of your family, please complete a Refuge Rescue application. 
**𝑰𝒇 𝒚𝒐𝒖 𝒂𝒓𝒆 𝒊𝒏𝒕𝒆𝒓𝒆𝒔𝒕𝒆𝒅 𝒊𝒏 𝒂𝒅𝒐𝒑𝒕𝒊𝒏𝒈 𝑹𝒚𝒍𝒐 𝒃𝒖𝒕 𝒚𝒐𝒖 𝒅𝒐 𝒏𝒐𝒕 𝒉𝒂𝒗𝒆 𝒇𝒊𝒓𝒔𝒕𝒉𝒂𝒏𝒅 𝒌𝒏𝒐𝒘𝒍𝒆𝒅𝒈𝒆 𝒐𝒇 𝒕𝒉𝒆 𝒃𝒓𝒆𝒆𝒅, 𝒑𝒍𝒆𝒂𝒔𝒆 𝒅𝒐 𝒓𝒆𝒔𝒆𝒂𝒓𝒄𝒉 𝑩𝑬𝑭𝑶𝑹𝑬 𝒂𝒑𝒑𝒍𝒚𝒊𝒏𝒈 𝒕𝒐 𝒂𝒅𝒐𝒑𝒕. 𝑬𝒏𝒈𝒍𝒊𝒔𝒉 𝑩𝒖𝒍𝒍𝒅𝒐𝒈𝒔 𝒉𝒂𝒗𝒆 𝒔𝒑𝒆𝒄𝒊𝒇𝒊𝒄 𝒏𝒆𝒆𝒅𝒔 𝒂𝒏𝒅 𝒓𝒆𝒒𝒖𝒊𝒓𝒆𝒎𝒆𝒏𝒕𝒔.**
Last update: November 26, 2020