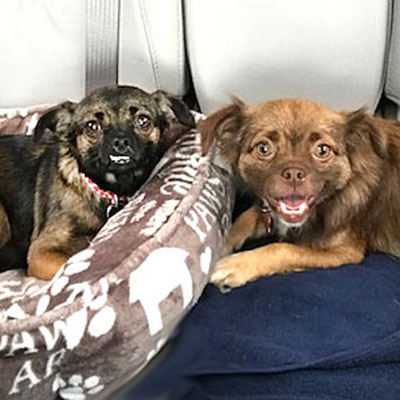 Ruby and Benny at a glance…
Dates of birth:
6/4/19 and 6/14/19
Breed:
Mixed
Weight:
10 -11 lbs.

House-trained:
Pad trained and will go outside
Good with dogs:
Yes 
Good with kids:
Yes (older children)
Personality:
Ruby is outgoing and friendly,
Benny is shy but easy going
Fenced Yard:
Mandatory
Ruby and Benny are looking for a home together
Benny and Ruby have been though a lot together. They were left with a puppy sitter and abandoned there together. They had a litter of puppies together. They were surrendered to us together. They are in a foster home together. They are adorable together. They share a special bond; they're best friends. They're so close, in fact, we have decided it is best for them to be adopted together.
This adorable pair is fun to have around. Their happiness and playfulness will bring you out of your deepest funk. You just can't be sad around them.
Benny is on the quiet side. He's lower-energy and very easy going – a laidback cutie who loves to snuggle. He likes to sit in your lap, go for walks and play with his toys. Ruby keeps him wrestling and running; and he loves every minute of it.  [view video]
Benny looks to Ruby for guidance. She's friendly, playful and full of life and energy. Belly rubs and playing fetch make her happy. Her life purpose is to make sure Benny doesn't become a couch potato. Her favorite game is wildly chasing Benny around the yard at super speeds. [view video]
These cuties are around 18 months old and a little over 10 pounds. Initially they're shy when meeting new people, but they warm up really quickly. They're house and crate trained, and a fenced yard is mandatory for them. We feel they'll do best around older children; they're fearful of younger, louder kids.
Their adoption fee is $375 each and includes recent spay/neuter, Rabies vaccines, microchips, Bordetella vaccines and other vetting. If you're interested in adding Ruby and Benny to your family, please complete a Refuge Rescue application. 
Last update: November 23, 2020