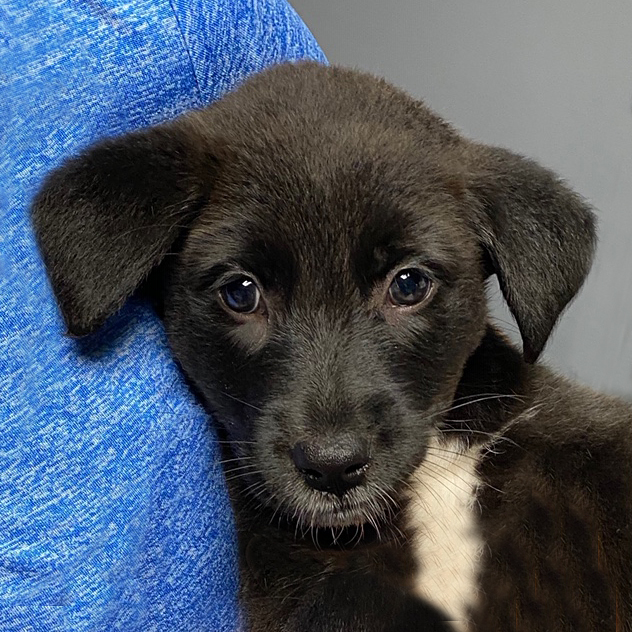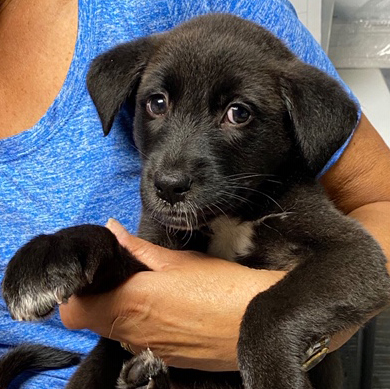 Her Stats:
Current Name: Razz
DOB: 2/29/20
Breed:  Labrador mix
Weight: 7.14 (intake)
Her Story
An advocate saw that this sweet puppy was offered for free on a yard sale advertisement. She drove to the yard sale and picked her up, intending to turn her over to a reputable rescue. She reached out to Refuge Rescue and we worked on lining up a foster home. Then, the advocate decided she would try to keep her, even though she could not afford to take her to the veterinarian and the dog was not eating/had bad diarrhea. After several days of the puppy struggling to survive, the advocate brought her to us . . . barely in the nick of time.
We named her Razz and immediately started taking care of her needs. Flea infested and full of worms, she was extremely lethargic, emaciated and pitiful. Even in this rough shape, she licked our hands when we held her and seemed to know that she was in a safe place. We bathed her, gave her dewormer and offered her small amounts of food and water. As the day progressed, she started feeling better and began to eat and drink. We were told that she is approximately 8 weeks old. Razz weighed 7.14 lbs when she arrived at Refuge Rescue. The foster family that had promised to help her came by to pick Razz up that evening and has given us positive updates ever since. We feel that she is on the road to recovery.
When she puts on some weight and is in better health, Razz will be spayed and microchipped. Her adoption fee is $350 and includes her spay, microchip, Bordetella vaccine, DAPPv vaccines and other vetting. We will start meet/greets for her in mid-May. If you'd like to make her a special part of your family, please complete an application today.
Last update: April 28, 2020