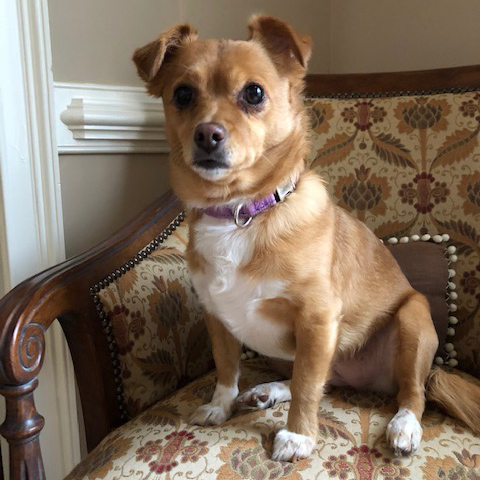 Pumpkin at a glance . . . 
DOB: 
10/21/2014
Breed:
Chihuahua mix
Weight: 
15 lbs.
Housetrained:
Yes
Good with kids:
Older kids are best
Good with dogs:
Yes – small ones
Likes cats:
Yes – lived with 2 cats
Introducing Pumpkin . . .
This cute little "Pumpkin" is hanging out at her foster home, making friends with their small dog. Her previous owners asked Refuge Rescue to find her a new forever home because Pumpkin is afraid of their toddler's quick movements/loud noises and they have another baby on the way. Pumpkin has been with them since she was a puppy (6 years) and they said that she was best buddies with their 2 cats. . . napped with one and played with the other.
She walks well on leash, loves to ride in the car, is a big snuggler, weighs 15 lbs, is said to be a Chihuahua-Pomeranian mix and is crate trained. Pumpkin does well with other small dogs but hides from bigger ones.
Her adoption fee is $375 and includes her spay, microchip, Rabies vaccine, Bordetella vaccine and other vetting.
If you need this sweet love-bug in your life, please complete a Refuge Rescue application. 
Last update: February 7, 2021