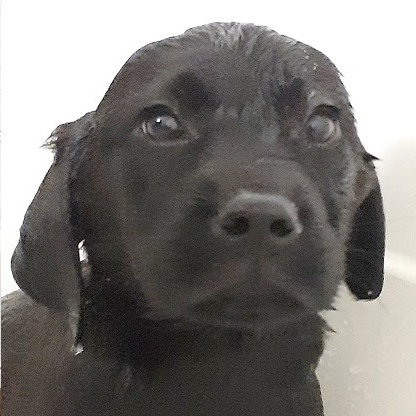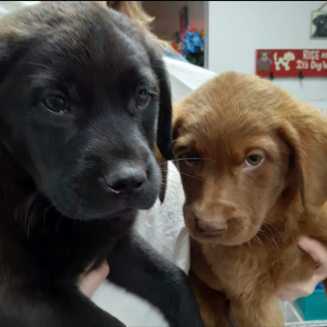 Their Stats:
Current Names: Mike and Sulley
DOB: 3/21/20
Breed: Labrador Retriever
Weight: 15 lbs now
Playful and sweet

Good with other dogs/puppies

Leash training in progress

Great with kids

Potty training in progress
Their Story
𝗜𝗻𝘁𝗿𝗼𝗱𝘂𝗰𝗶𝗻𝗴 𝘁𝘄𝗼 𝗼𝗳 𝗼𝘂𝗿 𝗻𝗲𝘄 𝗿𝗲𝘁𝗿𝗶𝗲𝘃𝗲𝗿 𝗽𝘂𝗽𝗽𝗶𝗲𝘀….𝗠𝗘𝗘𝗧 𝗠𝗜𝗞𝗘 𝗔𝗡𝗗 𝗦𝗨𝗟𝗟𝗘𝗬!
These 8-week-old Lab brothers are leftovers from an unplanned litter. They're in nice shape physically although they were pretty dirty initially. We are in the process of getting them checked out and vetted.
Mike, the chocolate, is smaller than his brother. He's outgoing and funny – and he tends to get in trouble due to his high curiosity level and playfulness. Sulley, the bigger of the two, is friendly and affectionate. He has the sweet, black lab face, loves to play and he always wants to be with you. 
They were really good when getting their 'bafs' as soon as they came into our Rescue Center – more worried about what was happening to the other while one was in the tub and the other wasn't. 
They are extroverts – lovable and playful. And they come wildly running when you call. So precious! Their adoption fee is $500 and includes their neuter, microchip, Bordetella vaccine, DAPPv vaccines, deworming and other vetting.
If you are interested in meeting these cuties, click here to fill out the application.
Last update: June 9, 2020