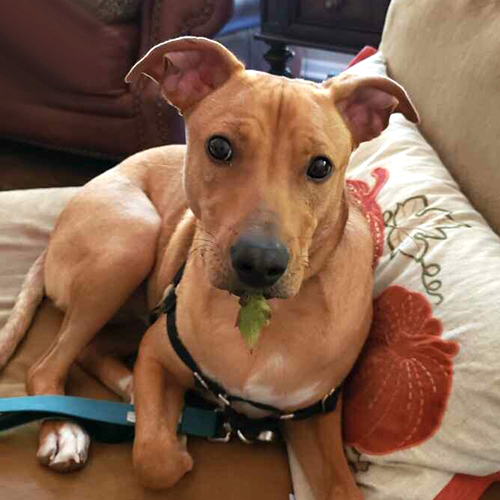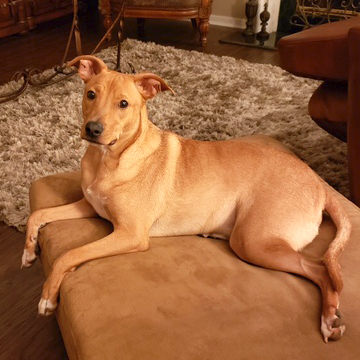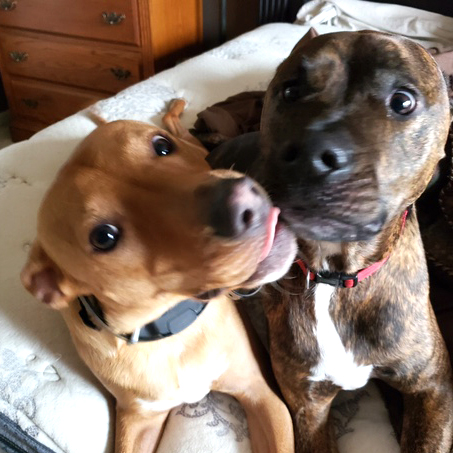 Maverick at a glance…
Date of birth:
10/27/19
Breed:
Mixed
Weight:
50 lbs
House trained:
Yes
Good with kids:
Yes
Good with dogs:
Yes 
Good with cats:
Not sure, probably not
Activity Level:
Very active, loves to play and run
Fenced Yard needed:
Required
Say hello to Maverick . . 
𝗔𝗿𝗲 𝘆𝗼𝘂 𝗼𝗻𝗲 𝗼𝗳 𝘁𝗵𝗼𝘀𝗲 𝗽𝗲𝗼𝗽𝗹𝗲 𝘄𝗵𝗼 𝗹𝗼𝘃𝗲𝘀 𝗱𝗼𝗴𝘀…? Like… ALL dogs… like… all different breeds of dogs… and you just cannot decide which breed to adopt? Do you love intelligent and active dogs who want to be an integral part of your world… no matter what you're doing? Well, we have just the pup for you!!
𝐌𝐞𝐞𝐭 𝐌𝐚𝐯𝐞𝐫𝐢𝐜𝐤… or Mavi, as his foster family calls him is a bit over a year old and he's a marvelous multi mixed breed. His DNA proves he is genetically an incredibly intelligent, easily bored, athletic specimen of absolute handsomeness. But we already knew that about him. Now we want You to know… because he's looking for his forever home.
𝗛𝗲'𝘀 𝟮𝟲% 𝗔𝗺𝗲𝗿𝗶𝗰𝗮𝗻 𝗦𝘁𝗮𝗳𝗳𝗼𝗿𝗱𝘀𝗵𝗶𝗿𝗲 𝗧𝗲𝗿𝗿𝗶𝗲𝗿. This totally explains so much about him! He enjoys nothing more than being with his humans. He's intelligent and eager to please, so he's highly trainable; although, that intelligence means he needs mental stimulation. And if he doesn't get it, he'll create his own entertainment… frequently that means chewing stuff or getting into mischief, so he needs a confident owner who will set boundaries – and provide guidance and fun activities. He loves being involved and having something to do. He'd be great in athletic competitions, agility exercises, obedience training or nose work… or hiking and going on adventures with the people he loves.
𝐇𝐞'𝐬 𝟏𝟒% 𝐋𝐚𝐛𝐫𝐚𝐝𝐨𝐫 𝐑𝐞𝐭𝐫𝐢𝐞𝐯𝐞𝐫… which is perfect if you like good-natured and friendly dogs with keen intelligence and plenty of energy. 
𝗛𝗲'𝘀 𝟭𝟰% 𝗖𝗵𝗼𝘄 𝗖𝗵𝗼𝘄. Would you love having a smart, attentive buddy who cares thrives on your attention? 
𝗛𝗲'𝘀 𝟭𝟮% 𝗥𝘂𝘀𝘀𝗲𝗹𝗹 𝗧𝗲𝗿𝗿𝗶𝗲𝗿. Just like a terrier, Mavi's clever, alert and inquisitive with lots of personality, needing plenty of exercise and consistent training to prevent unwanted behaviors. He's got lots of energy combined with entertaining antics. He'll find his own amusement if you don't help him stay entertained.
𝗛𝗲'𝘀 𝟵% 𝗛𝘂𝘀𝗸𝘆. Athletic and intelligent… a regular theme for his breed mix!
𝗛𝗲'𝘀 𝟴% 𝗖𝗼𝗿𝗴𝗶. The first thing dog lovers notice about corgi mixes is that they have tons of personality. They're great at troubleshooting, thinking outside the box… They need things to keep them occupied. They need a job, a project, something to keep them occupied.
𝗛𝗲'𝘀 𝟴% 𝗙𝗿𝗲𝗻𝗰𝗵 𝗕𝘂𝗹𝗹𝗱𝗼𝗴… which totally explains the slight French accent you may notice when he barks. He also really loves French toast.
As you can see, each breed in his genetic makeup clearly describes a dog that is active and smart.
If you're looking for a simple-minded, couch potato type dog, Mavi is definitely Not the dog for you. If you're intrigued by a smart, entertaining, engaged, athletic, energetic, trainable, fun, funny boy with a high level of energy and exuberance for life, you'll want to meet our Maverick.
His energy level suggests Maverick will do best with older kids who are dog savvy. And because of his high intelligence and his propensity for boredom, he'll need a family that will set boundaries, provide proper mental and physical stimulation to keep him out of mischief. He can play rough so any housemates will need to be friendly, playful and accepting of roughhousing. He handles correction very well though when he's told to take it down a notch.
He doesn't have an advanced degree, but he's got some serious schooling. He was having some adjustment issues when he first moved into his foster home, mostly from not having any structure or enough attention in his previous home, so we sent him to 6 weeks of boarding training to learn the stuff he needs to know to be the bestest boy he can be. His trainer thinks highly of him, and is even including some free lessons to his new adopter, to ensure things go really well.
(𝑁𝑜𝑡𝑒: 𝑇ℎ𝑒 𝐷𝑁𝐴 𝑡𝑒𝑠𝑡 𝑟𝑒𝑠𝑢𝑙𝑡𝑠 𝑤𝑒 𝑎𝑟𝑒 𝑟𝑒𝑝𝑜𝑟𝑡𝑖𝑛𝑔 𝑓𝑜𝑟 𝑀𝑎𝑣𝑒𝑟𝑖𝑐𝑘 𝑎𝑟𝑒 𝑡ℎ𝑒 𝑟𝑒𝑠𝑢𝑙𝑡𝑠 𝑜𝑓 𝑎 𝐷𝑁𝐴 𝑡𝑒𝑠𝑡 𝑑𝑜𝑛𝑒 𝑜𝑛 𝑜𝑛𝑒 𝑜𝑓 ℎ𝑖𝑠 𝑏𝑟𝑜𝑡ℎ𝑒𝑟𝑠\𝑙𝑖𝑡𝑡𝑒𝑟𝑚𝑎𝑡𝑒𝑠. 𝑊𝑒 𝑎𝑠𝑠𝑢𝑚𝑒 𝑡ℎ𝑒 𝑟𝑒𝑠𝑢𝑙𝑡 𝑤𝑜𝑢𝑙𝑑 𝑏𝑒 𝑡ℎ𝑒 𝑠𝑎𝑚𝑒 𝑓𝑜𝑟 ℎ𝑖𝑚, 𝑏𝑢𝑡 𝑡ℎ𝑒𝑟𝑒 𝑎𝑟𝑒 𝑛𝑜 𝑔𝑢𝑎𝑟𝑎𝑛𝑡𝑒𝑒𝑠.)
Maverick's adoption fee is $350 and includes his rabies, heart worm testing, preventions and other vetting.
If you'd like to make him a part of your family, please complete a Refuge Rescue application. 
Last update: January 9, 2021