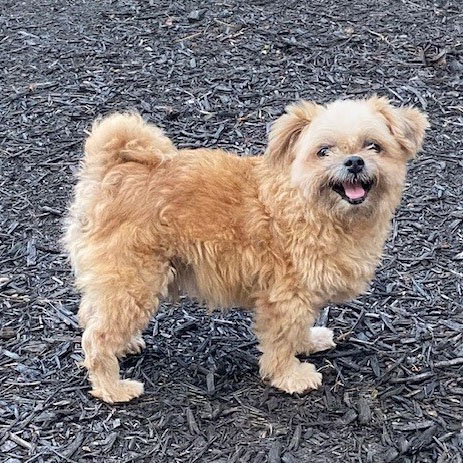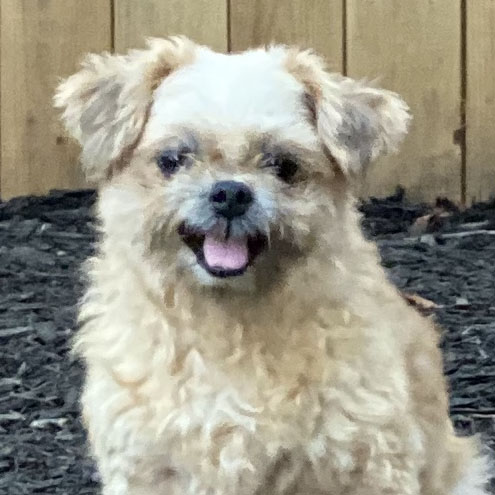 Lucky Charm at a glance… 
Current Name:
Lucky Charm
Age:
9 years
Breed:
Shih-Tzu
Weight:
12  lbs 
House-trained:
yes
Crate-trained:
yes
Good with kids:
yes
Good with dogs:
Yes – gentle, sweet dogs
Likes cats?
unknown but probably
Activity level:
Loves to run, play and snuggle
Fenced Yard:
Required for herding breeds
Other notes:
Shy when first meeting people and then playful. Very sweet.
𝗙𝗿𝗼𝗺 𝗠𝗶𝘀𝗲𝗿𝗮𝗯𝗹𝗲 𝘁𝗼 𝗠𝗮𝗿𝘃𝗲𝗹𝗼𝘂𝘀…
𝗟𝘂𝗰𝗸𝘆 𝗖𝗵𝗮𝗿𝗺 𝗶𝘀 𝗳𝗲𝗲𝗹𝗶𝗻𝗴 𝗴𝗿𝗲𝗮𝘁 𝗮𝗻𝗱 𝗶𝘀 𝗿𝗲𝗮𝗱𝘆 𝗳𝗼𝗿 𝗵𝗶𝘀 𝗳𝗼𝗿𝗲𝘃𝗲𝗿 𝗳𝗮𝗺𝗶𝗹𝘆!
He's not just ready, he's roarin' to go! His "new" smile alone will absolutely steal your heart. He is just too cute – and happy! Looking back at his intake and shelter pictures, we cannot believe this is even the same dog!
This boy was a Total Mess when we first met him in July after he was owner-surrendered to Cobb County Animal Control. He was so matted – so literally encased in tight, filthy mats – that he could not move properly. It hurt to move. He limped and favored his rear legs. His mouth was infected, and several teeth were abscessed. He was in pain from the mats ripping at his skin, entangling him and from an infected, swollen mouth. Although he was in pain, he was always still a sweet boy… but he really preferred not to be touched and he tried to avoid interaction. It hurt. Everything hurt.
𝗕𝘂𝘁 𝘁𝗵𝗮𝘁 𝘄𝗮𝘀 𝘁𝗵𝗿𝗲𝗲 𝗺𝗼𝗻𝘁𝗵𝘀 𝗮𝗴𝗼
We fixed up his mouth. He was in surgery for several hours while the abscesses were addressed, several teeth were removed and the others were cleaned and scaled. (Thank you so much, Dr Mees!) Within just two days, his whole attitude changed. He knew his life was changing for the better.
From day one he had a prominent limp and he frequently favored his rear legs – holding each up regularly… not wanting to place weight on them. We discovered his rear hobbling was due to muscle atrophy from being unable to properly move due to his severe matting and resulting restricted blood flow. He uses his back legs like a champ now that he's free of his tangled fur – and he can move and exercise! He happily investigates the yard – and he loves to mosey and go on walk-abouts. He will still do best with continued joint care supplements though, as he is an older boy.
𝗛𝗲'𝘀 𝘀𝗼 𝗰𝘂𝘁𝗲 𝗮𝗻𝗱 𝘀𝗼 𝗵𝗮𝗽𝗽𝘆 𝗻𝗼𝘄
He loves to snuggle in his blankie. And now, every morning when his foster mom wakes him up, he wants lovey scratches and attention. He gives kisses in return. She says more and more of his adorable personality emerges every day now.
Lucky Charm will be fine as an only dog or with dogs who are sweet and calm. He's done well with dogs of all sizes but he is not a fan of overly rambunctious dogs or ones that jump on him. He's a good, sweet boy who just wants to be loved.
Lucky Charm is 9 years old and he weighs about 12 pounds. His adoption fee is $300 and includes his neuter, Bordetella vaccine, Rabies vaccine, microchip, deworming and other vetting.
If you think he might make the perfect addition to your family, please complete a Refuge Rescue application. 
Last update: October 13, 2020