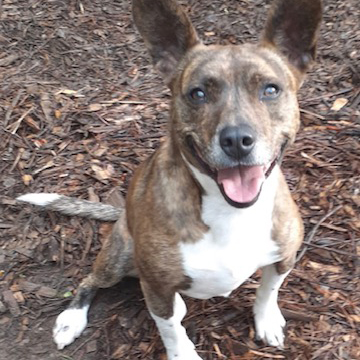 His Stats:
Current Name: Luca
DOB: 12/25/16
Breed: Marvelous Mix
Weight: 35 lbs
Walks well on leash
Takes treats gently when offered
Sits when asked
Friendly 
His Story
𝗪𝗛𝗔𝗧'𝗦 𝗪𝗢𝗥𝗦𝗘 𝗧𝗛𝗔𝗡 𝗟𝗜𝗩𝗜𝗡𝗚 𝗗𝗨𝗥𝗜𝗡𝗚 𝗔 𝗣𝗔𝗡𝗗𝗘𝗠𝗜𝗖?
Having the family you've loved since you were a teeny boy dump you at a kill shelter. "Asher" along with his two sisters were being given away from the back of a truck in a Walmart parking lot over 3 years ago. All three puppies were in pretty rough shape; we got them all fixed up and healthy – and thought we'd found the perfect forever home for Asher. We were wrong. We received a call yesterday that he was surrendered to a local county shelter. We rushed to get him. We cannot imagine how anyone could just throw away such a nice boy. We love him. He grew up to be an awesome dog.
𝗛𝗘 𝗚𝗢𝗘𝗦 𝗕𝗬 𝗟𝗨𝗖𝗔 𝗡𝗢𝗪.
Luca is incredibly friendly – he loves to give kisses. He doesn't jump on you –- and he's been great on leash; he seems very much like the perfect family dog. He doesn't like to be alone – so we'll be looking for a home with someone who is there a lot – or that has another friendly, confident dog as a buddy. He's house-trained and he likes to play ball… not crazy, out of control likes-to-play-ball… just toss it and I'll enjoy retrieving it for you likes-to-play-ball. His demeanor is very happy – even considering his circumstances. He likes to hang out with you. 
𝗠𝗢𝗥𝗘 𝗜𝗡𝗙𝗢
LUCA'S date of birth is 12/25/16 — a Christmas baby!  Breed mix: We have no idea. We remember his mommy was about 30 lbs and furry. We were told his daddy was a 20-ish lb "Chihuahua mix." As a baby, his body definitely looked kinda collie x chihuahua; he was a little guy when we first rescued him. His adult body style is sort of Basenji-like…. and he's short haired like a chihuahua.. but he weighs about 35 lbs now. He's a pretty brindle color with white sox on is back feet and white knee-high socks on his front feet. The end of his tail is also tipped in white to make sure he's all matched up coloring-wise.  🙂
The adoption fee for Luca is $275. He is neutered, microchipped, up-to-date on flea prevention and heart worm prevention. If you'd like to meet this great boy, please complete an application today.
Last update: April 26, 2020