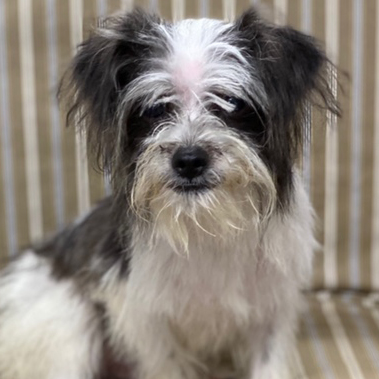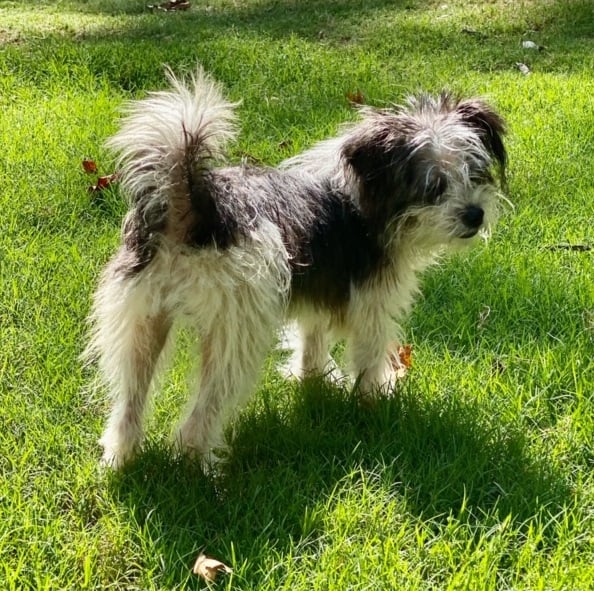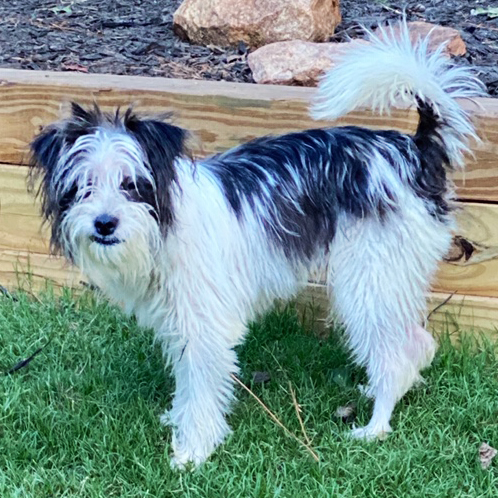 Kingston at a glance…
Date of birth:
1/6/20
Breed:
Shih-tzu-Yorkie
Weight:
8 lbs.
House-trained:
Sorta (working on it)
Crate trained:
Yes
Good with kids:
Yes – older kids 
Good with dogs:
Yes!  (Best if not tiny or tiny senior)
Good with cats:
Unknown… probably would chase
Activity level:
High – loves to run/chase/play with buddies
Fenced yard:  
Very highly recommended 
Other notes:  
Super sweet; Shy at first; Needs access to other playful, energetic dogs
𝗛𝗲'𝘀 𝗾𝘂𝗶𝘁𝗲 𝘁𝗵𝗲 𝗦𝗰𝗿𝘂𝗳𝗳𝘆 𝗟𝗶𝗹 𝗠𝗼𝗻𝗸𝗲𝘆… 𝗮𝗻𝗱 𝘄𝗲 𝗹𝗼𝘃𝗲 𝗵𝗶𝗺!
This little guy was purchased by a high school senior who soon realized that properly caring for a dog is expensive and time consuming. Working and going to school left little time to spend with him, so she decided that he needed to find a home that could provide for all of his needs.
So… 𝗠𝗘𝗘𝗧 𝗞𝗜𝗡𝗚𝗦𝗧𝗢𝗡!
We were told he's a Shih Tzu x Yorkie, also known as a Shorkie, for people who keep track of such things. However, after our thorough evaluation, we think he is more of a Ruffkey… a definite Rowdy Scruffy Monkey. He weighs a mighty 8 pounds (LOL); we expect he'll weigh about 12-ish pounds as an adult.
He's rowdy – and tons of fun. It's a ball to watch how playful he is with other dogs. He likes adventure and loves going on walks where he can discover more smells and meet more people and make more doggy friends.
It's best if he's with dogs larger them he is, because he tends to run over smaller dogs. We know what you're thinking…. smaller than 8 lbs…? Yup. He's a ruffian amongst the minis. LOL. He runs them right over – leaves em in the dust. And then he laughs about it. (He's the same with senior teenies; he's just too rough, except he only giggles when he runs the oldsters down. (He has a tad of respect for his elders).
He's not a couch potato lap dog, but when he's ready to rest after a fun rough-housing session with his buddies, he'll take a power nap by your side – until it's time to go another round. He's a sweet boy, but not quite fully potty trained yet; he's doing well and getting there though. He loves running free in the fenced back yard and he does really well on walks in his harness. He's a bit mouthy, right now – he doesn't bite but he does grab hands – so he'll need some help learning the "no teefs on peeps" rule. Therefore, it will be best if he's only with older kids until he learns what is acceptable.
He is good with other dogs, especially those bigger than he is so they can remind him that they are in charge. His potty-training is going well and he will not go to the bathroom in his crate unless left in it for too long. His adoption fee is $500 and includes his neuter, microchip, Bordetella vaccine, Rabies vaccine and other vetting.
If you'd like to make Kingston a part of your family, please complete a Refuge Rescue application. 
Last update: August 7, 2020