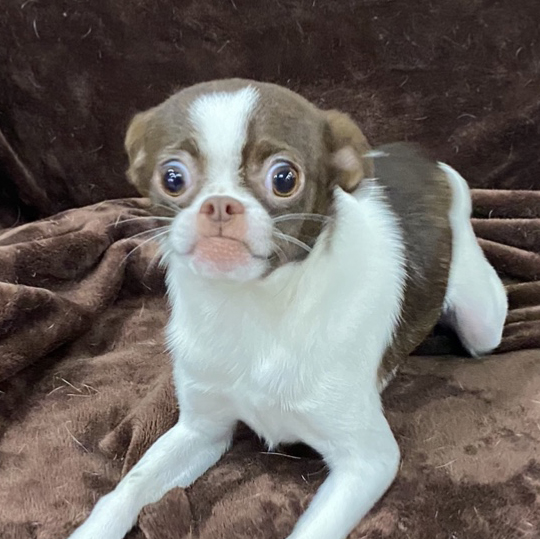 Kiki at a glance . . .
Date of birth:
9/19/19
Breed:
Chihuahua and possible Pug or Boston Terrier mix
Weight:
9 lbs.
House-trained:
Yes
Crate trained:
Yes
Good with kids:
Yes
Good with dogs:
Yes, but prefers them sweet and low-key
Good with cats:
Do not know
Activity level:
Medium – Playful and happy but loves to sit on lap and snuggle
Fenced yard:
Helpful but not a requirement
Welcome Kiki
Kiki is one of those special pups that you fall for as soon as you meet. Sure, she's great with other dogs, but she's really a people person…you know, she loves, loves, loves her human peeps.
Her little round head and exaggerated underbite, combined with her super sweet personality, will steal your heart in a minute. She's timid and submissive but super lovable with her family. We haven't heard her bark yet; she's really quiet.
When you call her, she comes running and her whole body is wiggling with enthusiasm. When she's excited she does a wonderful happy dance. She loves to be held and she really enjoys sitting on your lap while you work or watch TV. She just wants to be near you. She's an all-around great girl.
Our "Kiki Monkey" is about a year old and she weighs around 10 pounds. She's good in the house and almost 100% house trained. Her adoption fee is $400 and includes her spay, microchip, Bordetella vaccine, Rabies vaccine and other vetting.
If you'd like to make Kiki a part of your family, please complete a Refuge Rescue application. 
Last update: October 28, 2020