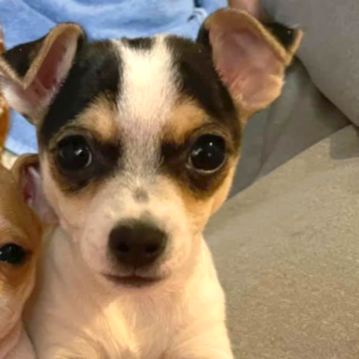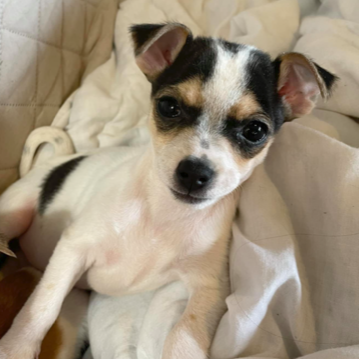 Katniss at a glance . . . 
Date of birth:
10/1/20
Breed:
Chihuahua mix
Weight:
3.8 lbs.
Housetrained:
In progress
Good with kids:
Yes
Good with dogs:
yes
Likes cats:
Lives with them at foster home
We welcome the Pipsqueaks to Refuge Rescue!
We rescued Katniss and Primrose from an awful hoarding situation. They are the two surviving pups from a litter of five. Their three siblings died before an advocate was able to get them all to safety. Katniss is the slightly larger tri-color girl and Primrose (already has found a home) is the smaller white and tan baby. Both were in rough shape on intake, especially for such wee little ones. They are little fighters though!
Born October 1st, these are the ittiest, bittiest babies! As we say in the South, these girls are knee-high to a grasshopper – and maybe not even knee high if the grasshopper is full grown. As of January 2021, Katniss weighs 3.8 lbs.
You can tell Kat is used to taking care of her little sis; she seeks Prim out to cuddle up with her and make sure she's warm. They stay close together and snuggle when they sleep. We were able to move them immediately into a loving foster home where they're clean and warm and safe – and getting lots of attention. They're also showing their adorable little personalities.
We are excited to be able to help these feisty little nuggets. Katniss is a feisty pup and her foster family describes her as "always on the go, high energy and her favorite thing in the world is playing with toys and other pups/dogs". She also loves to snuggle as she prepares to nap after a whirlwind round of playtime.
Her adoption fee is $450 and includes her upcoming spay, DAPPv vaccines, Bordetella vaccine, deworming, microchip and other vetting.
Last update: January 24, 2021