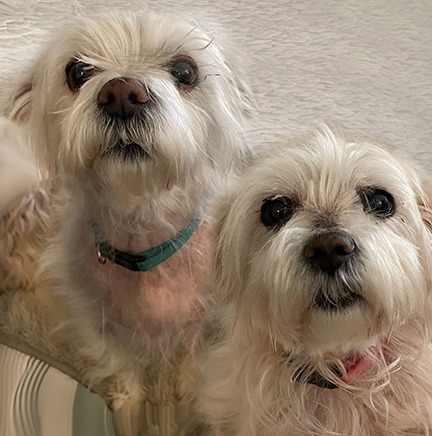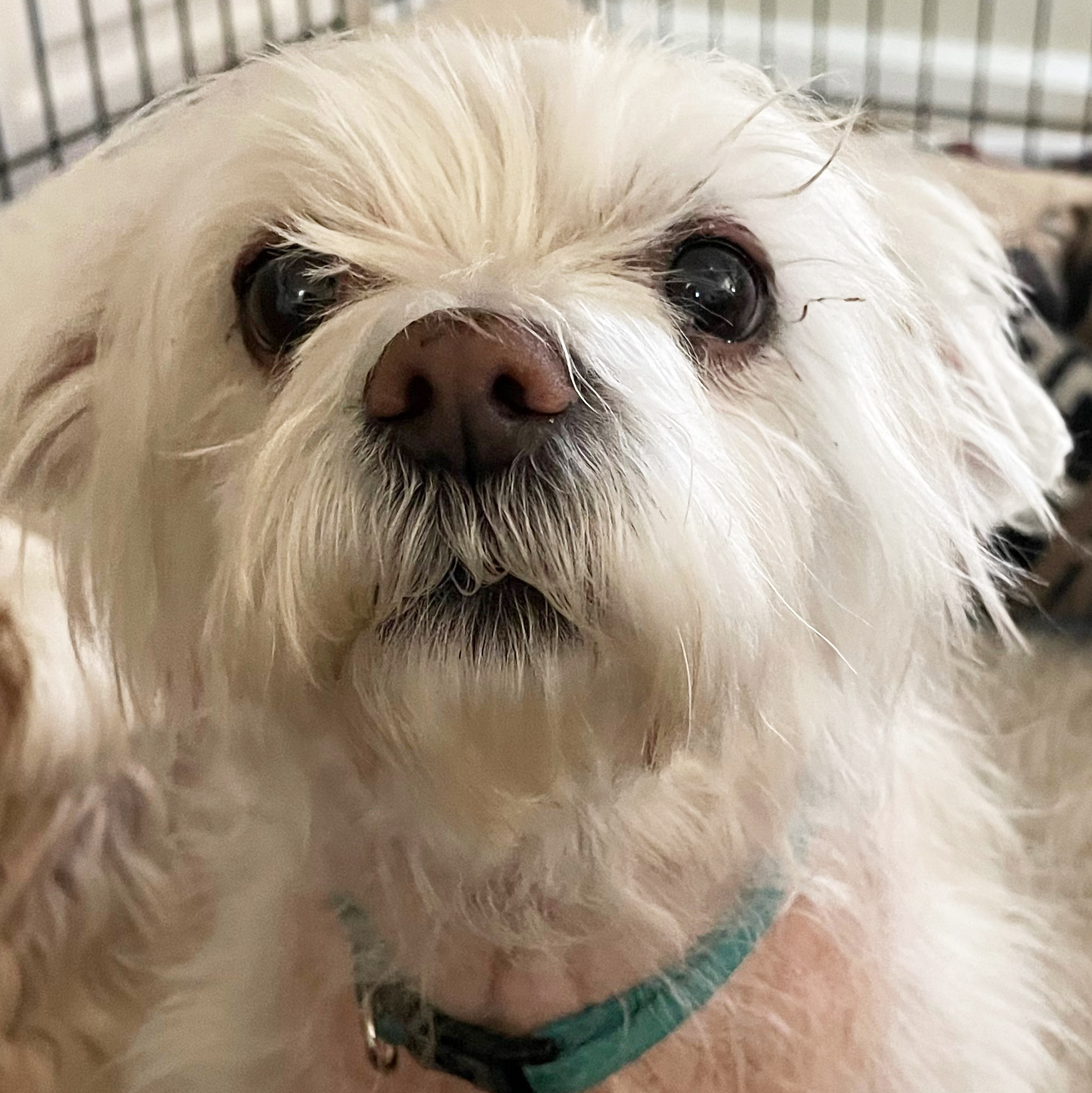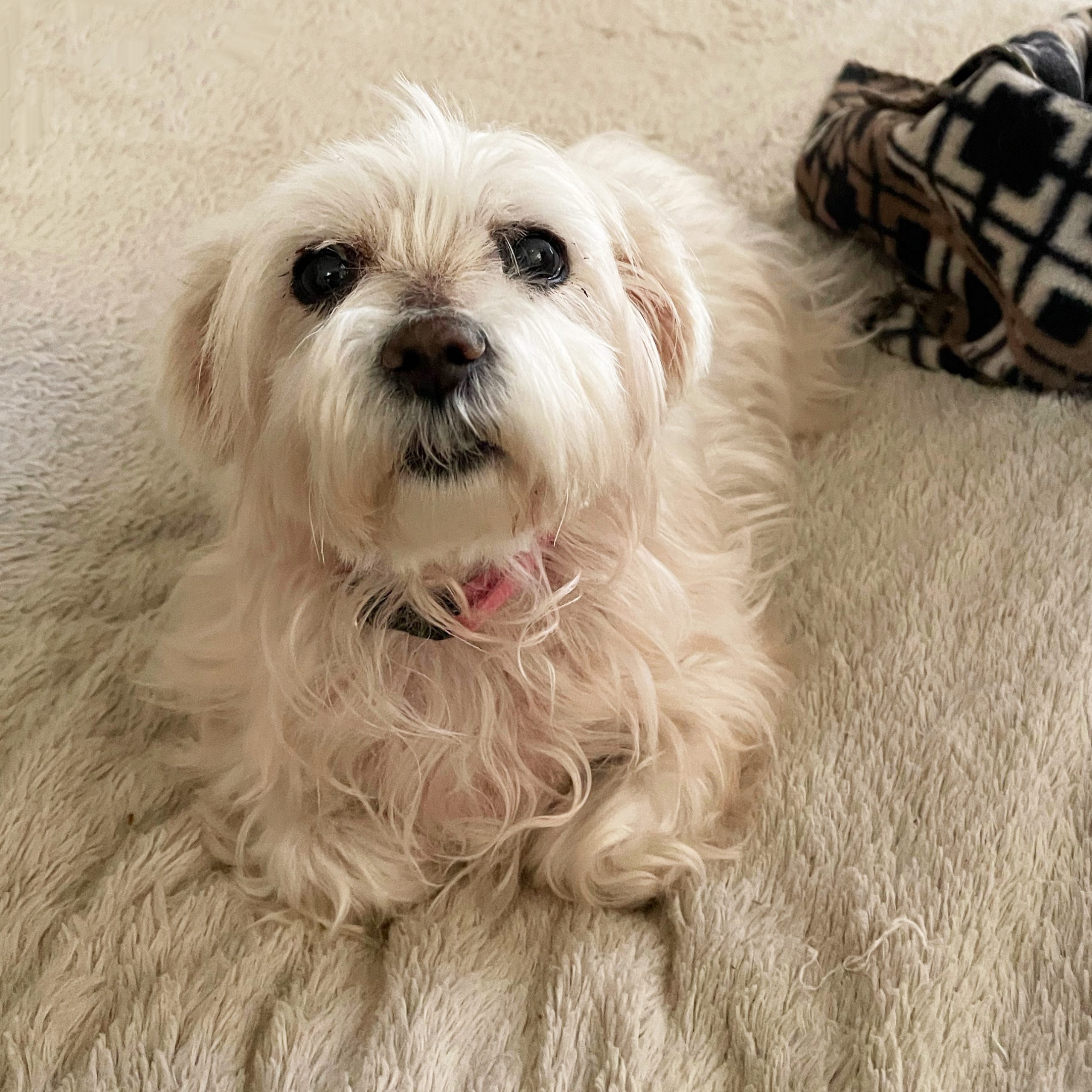 At a glance…
Eva date of birth:
1/7/2019 (green collar)
Zsa Zsa date of birth:
1/7/2016 (pink collar)
Breed:
Maltese

Weight:
10-11 lbs

House-trained:
Yes

Good with kids:
No

Good with dogs:
Only each other
Likes Cats:
Yes, ignores them
Introducing Eva and Zsa Zsa . . .
Eva and Zsa Zsa are a wonderful BONDED PAIR. They have depended on each other since the day we rescued them and we couldn't imagine them being separated. Eva and Zsa Zsa were rescued by us after being abandoned in a crate outside a shelter on a cold January morning. They were nearly hairless and left with no blankets, just each other to stay warm and tackle their unknown fate. But then they heard it was their big rescue day! They were so gentle and thankful to be in loving arms and our team was eager to give them a new lease on life.
Upon exam, our vet diagnosed them with a severe skin infection and prescribed a treatment consisting of antibiotics and medicated shampoo. Zsa Zsa also had arthritis and dental disease. Her arthritis is well managed with glucosamine supplements, although she prefers to take things easy – lounging and cuddles are her favorite things . She also received her dental surgery and feels so much better now! Both girls were able to enjoy their recovery in a loving foster home and their personalities began to shine! They even enjoyed their medicated baths and never knew pampering could feel so good. The medicated baths helped their coat so much but they were still struggling to develop a full fluffy coat so, we ran a thyroid panel to determine if that could also be contributing. We found an answer! Both Zsa Zsa and Eva are hypothyroid and with the help of a tiny little inexpensive pill, they feel like brand new pups!
Eva, the youngest, loves to play fetch! Her foster parents say she will play it all day if you keep it up. Eva never strays too far from Zsa Zsa – checking on her between playtime and always curling up with her for a good nap.  They sleep together every night and thoroughly enjoy all the comforts of the good life. Eva and Zsa Zsa would prefer a home without young children and remain the only dogs. They are not bothered by cats and will generally ignore them.
Their adoption fee is $750 (including bonded pair discount) and includes their spay, microchip, Bordetella vaccine, DAPPv vaccines, other vetting, and a 30 day supply of their current medication.
If you are ready to spoil these two sweet, wonderful girls, please complete a Refuge Rescue application. 
Last update: May 10, 2021