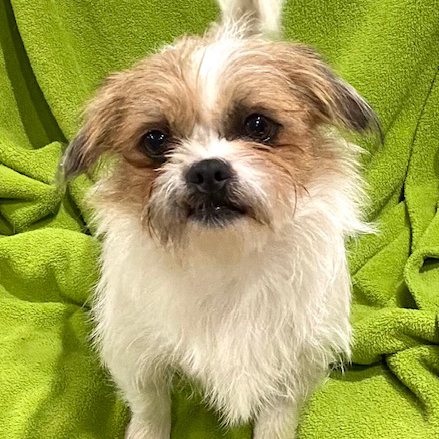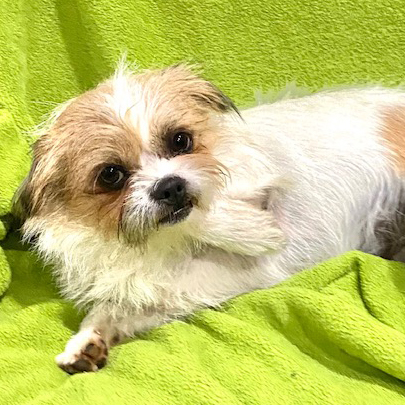 Crosby at a glance . . . 
Age:
1 1/2 years
Breed:
Small terrier mix
Weight:
15 lbs.
House-trained:
Doing well in foster home
Good with kids:
Friendly to everyone
Good with dogs:
Yes – especially small dogs
Good with cats:
Unknown
Activity level:
Loves to play but also is a smuggler
Fenced Yard:
Preferred
Introducing the Lost Boys
Bixby, Kirby and Crosby were found out wandering together unsupervised. Some Good Samaritans chased them down and made sure they were safe. After a few days, when an owner was not found they had to go to animal control for a stray hold, in the hope that their owner would come for them. That didn't happen.
So they're with us now and they're looking for their forever homes.
They're really sweet and shy – and very loving. The two youngest are easily frightened. They love to be held and really snuggle in. Bixby is about 3 months old. Kirby is 6 months old. Crosby is 18 months old. Animal Control listed them as terrier-poodle mixes.
Baby Bixby is missing fur and has what appears to be entropion eyelids – both eyes. Entropion is a condition where the eyelid turns inward, causing the skin and lashes to rub against the eye. It's irritating and painful– and it will require surgery to correct. He has a vet appointment scheduled to learn more about how best to help him.
The fee for Kirby and Bixby is $450. The adoption fee for Crosby is $400. Our fees include their neuter, microchip, Bordetella vaccine, deworming and other vetting.
If you'd like to meet one of these adorable boys, please complete a Refuge Rescue application. 
Last update: December 7, 2020