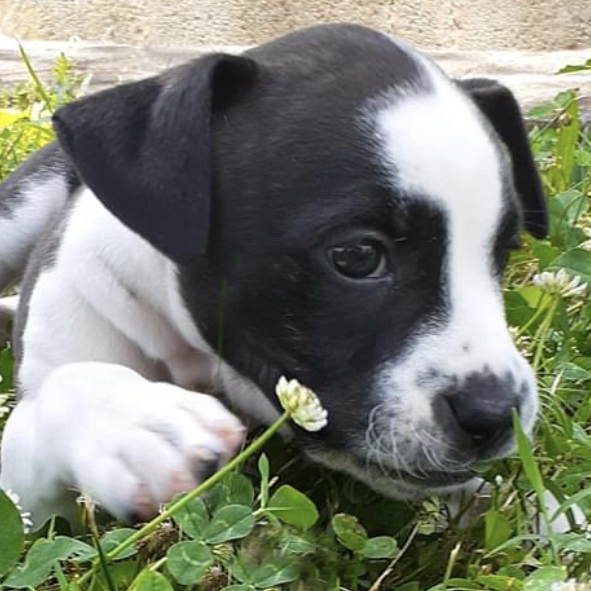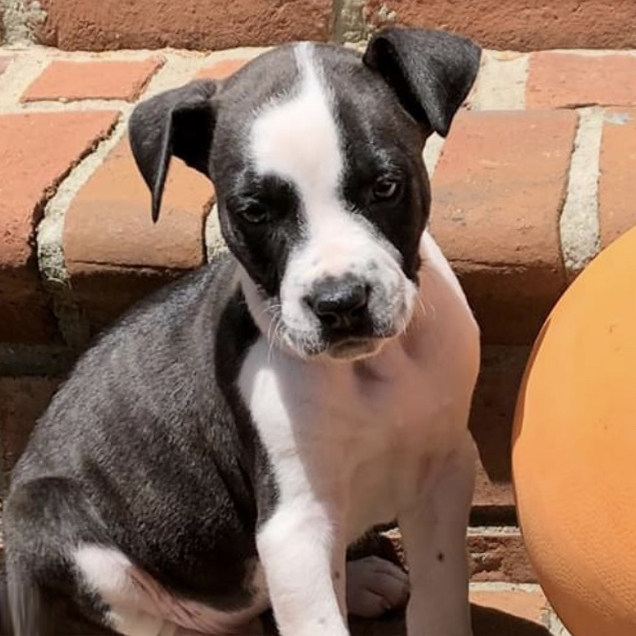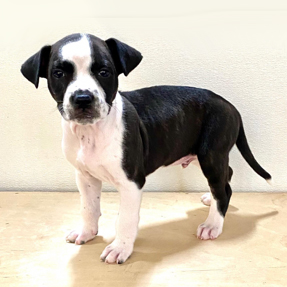 His Stats:
Current Name: Cargo
DOB: 4/4/20
Breed: Mixed breed
Weight: 7lbs now, may be 40-60lbs
Cute and playful
Likes other puppies/dogs
Potty training in progress
Leash training in progress
His Story
𝗪𝗘'𝗥𝗘 𝗦𝗧𝗢𝗣𝗣𝗜𝗡𝗚 𝗧𝗛𝗘 𝗖𝗬𝗖𝗟𝗘
Eight weeks old… and already he's had five "owners" – his breeder, two adopters, his rescuer – and now us. Can you even imagine the confusion – and fear – this little guy must have experienced? If a Good Samaritan had not gotten involved, this boy would likely have continued the cycle of being passed around as though he was nothing – and would have probably spent his life sad, alone and chained. At only 6-weeks-old, this baby was sold for $250. The new owners discovered they weren't allowed to have him in their apartment complex. So, a few days later, he was resold – for $150. But the new family's children weren't interested in him. So they got a rope. And they tied this tiny baby boy out in the back yard. Alone. 
Our hearts just break thinking of him outside all by himself, scared, lonely and confused. 
A Good Samaritan heard his cries – and cared enough to get involved! She was forced to buy his freedom for $150 and asked us to find him a safe, loving home. We were able to move him directly to an emergency short term foster; and he moved in with his new foster yesterday afternoon. He's had a ton of change in his short two months of life… and an incredible amount of change in just the past two weeks alone.
$500 transferred hands for this baby — yet he'd received no vetting – and no appropriate care. Too thin and very lethargic, he was covered in fleas and infested with worms. He is so malnourished that he can only play for a few short minutes, and then he needs to stop and rest and nap. He just doesn't have enough energy to stay awake for long. He'll improve quickly now that's he's been dewormed and he's getting proper nutrition. He's only been in his new foster home a few hours, but he's already beginning to thrive learning about love and fun, and he's eating like a little piggy, too. 
𝗛𝗲'𝘀 𝗮… 𝗟𝗮𝗯…?
Cargo is 8-weeks-old. His was born April 4th and he currently weighs just over 7 pounds. His original owner was told he was a Lab. Seriously. They thought they'd purchased a Lab. He's definitely not a lab. He's a dark brindle and white, super cute and engaging, bully mix of some sort. He was extra happy when we gave him a ball to play with – almost fascinated. He hunches down and wiggles his booty in the air, like a cat about to pounce, when he's getting ready to initiate play with other dogs. We named him Cargo and we can't wait to watch him flourish and grow, and to learn how it feels to be an integral part of a loving family. His adoption fee is $350 and includes his upcoming neuter, his Bordetella vaccine, deworming, DAPPv vaccines, microchip and other vetting.
If you are interested in meeting Coal, please complete an application today.
Last update: June 1, 2020