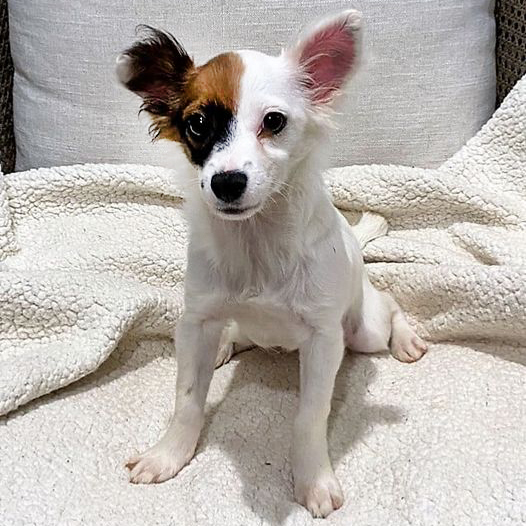 Callie at a glance…
Current Name:
Callie
Date of birth:
5/3/20
Breed:
Chihuahua/Poodle mix

Weight:
7 lbs.

House-trained:
yes
Good with dogs:
yes – needs another playful friend

Activity level:
Rough and tumble
Fenced yard needed:
Yes

Meet Callie. . .
Six-month-old Callie is super cute and tiny, but she's not a delicate flower! She's actually one tough cookie. She's a parvo survivor and miniature WWF wrestler in one teeny little package.
Although she's only 7 pounds, she's quite the little ruffian when it comes to playing with her friends. She's a rough and tumble player who flies around the yard at a turbo speeds with her buddies. She'll body slam them; they'll tangle up – and then they'll roll down the hill together. It's nonstop puppy WrestleMania – and she loves every minute of it!
Callie's also sweet and loving with her human friends. One of her greatest loves though is treats; she loves to eat! She's a really smart girl. She knows her name and comes running when you call her; it's the cutest thing ever. We were told Callie's mom is a purebred, long-haired, 5-pound Chihuahua and her dad is a purebred, 12-pound Poodle. Chi-Poos go by several "designer" names, including Choodle, Chipoodle, Poochi, but our favorite description though is Poohuahua. It's just fun to say.
Callie is housetrained with very few accidents. She'll need a home with at least one other very active, playful dog. She's ready to find her forever home. Her adoption fee is $450 and includes her spay, microchip, Bordetella vaccine, Rabies vaccine and other vetting. To apply, please complete a Refuge Rescue application.