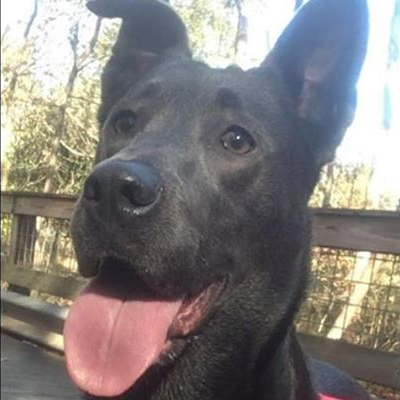 Caddy at a glance…
Current Name:
Caddy
Age:
4 years
Breed:
Weimaraner x Lab x Shepherd
Weight:
50 lbs

House-trained:
yes

Good with kids:
yes

Good with dogs:
yes
𝗦𝗔𝗬 𝗛𝗘𝗬 𝗧𝗢 𝗖𝗔𝗗𝗗𝗬!
Her name is Cadillac, but she likes to be called Caddy. She's a 4-year-old Weimaraner mix who is deeply loved by her family of the past few years. Unfortunately, due to family circumstances and changes, the family is no longer able to keep Caddy, and has asked us to find her a new, loving home.
She's house and crate trained, and she gets along great with other dogs – enough so that the local dog park is one of her favorite hangouts. Her energy level is rated on the higher end of the scale; she enjoys playing in water, running around and taking hikes. She's not a fan of car rides or vet visits. Both make her anxious, so she needs some patience with those.
She's a sun goddess; basking in the sun is a favorite pastime. She's also a follower, not a leader… expect her to shadow you throughout the day. It's not that she's insecure, she just loves her humans so much, she feels like she needs to keep them in her line of sight. If you like your privacy, Caddy is not the pup for you.
She's not a 'cat person'. She's not good with cats. That's actually a polite way of saying she is Bad with cats. Cats are a very big Nope in any home for her!
Caddy's great with kids and has been best buds with a pre-schooler in her home. She's used to being treated like family — getting on the furniture and sleeping in her family's beds. Her preference is snuggling in your lap. She's not vocal, usually only barking to alert you when someone's at the door. She's quite the athlete, so as a warning you need to know that she can jump a shorter fence. So beware, a baby gate or low fence isn't going to contain her. A large yard with a high fence is very highly recommended.
Caddy weighs around 50 lbs – This super sweet girl needs an active, fun and loving family who will treat her like one of the kids. Her adoption fee is $400 and includes her Rabies vaccine, Bordetella vaccine, microchip, spay and other vetting.
Last update: August 26, 2020