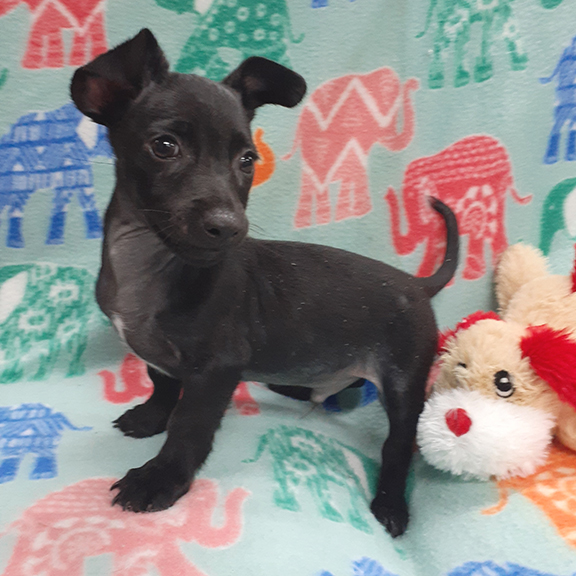 Atom Ant at a glance… 
Current Name:
Atom Ant
Date of birth:
6/16/20
Breed:
Dachshund/Chihuahua mix possibly
Weight:
4 lbs 
House-trained:
yes
Crate-trained:
yes
Good with kids:
yes
Good with dogs:
yes
Likes cats?
Unknown
Activity level:
Sweet and playful
Fenced Yard:
Great but not required
"𝗨𝗽 𝗮𝗻𝗱 𝗮𝘁 '𝗲𝗺, 𝗔𝘁𝗼𝗺 𝗔𝗻𝘁!"
We welcomed little 4-pound Atom Ant at around 10-weeks-old… the product of someone who continually and negligently allows his dogs to have litter after litter, then gives the pups away to whoever, wherever… We cringe at the fate of all those puppies; Lord knows where they all wind up, what kind of lives they lead – and if they even survive.
Atom's advocate rushed to get him as soon as his family asked for help. They'd had him a week or so – and had kept him locked in the bathroom, all alone… not getting much attention, at all. They thought he had mange, so they isolated him and now they wanted him out asap… They'd searched for adopters or rescues, but they had no luck. They did not want him. They wanted him gone.
As soon as we met him, we felt that his skin issues were mostly yeast instead of mange. We gave him a bath, clipped his long nails… and spent some time on his ears, which were gunky. He had scabs behind his ears from rubbing. He was so good through it all though, realizing we were helping him – and so happy he was being held and snuggled.
He appears to be a dachshund and chihuahua mix. He's long compared to his short little legs. He's a definite cutie… and a good boy. He just loves attention and he is bursting at the seems to be allowed to play with the other 'kids,' and to be held and loved.
Atom had no vetting prior to coming to Refuge Rescue. The only 'treatments' he'd had prior to coming to us was a 'deworming' with a home remedy of garlic, turmeric and salmon. He'll need at least one skin scrape, all puppy vaccinations, deworming, a microchip, flea and heartworm prevention… and he'll be neutered as soon as possible. He'll also likely need some prescription ear meds. His adoption fee is $450 and includes all of the above vetting.
If you'd like to make Atom Ant a part of your family, please complete a Refuge Rescue application. 
Last update: September 7, 2020