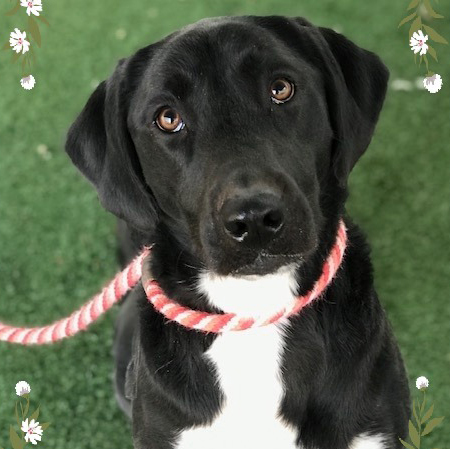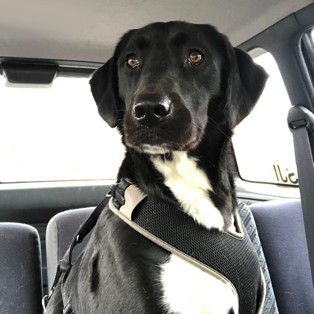 Her Stats:
Current Name: Aria
Age: 2 years
Breed: Lab mix
Weight: 75 lbs
Super friendly

Walks nicely on leash

Potty trained

Eager to join her forever family
Her Story
𝗜𝗡𝗧𝗥𝗢𝗗𝗨𝗖𝗜𝗡𝗚 𝗔𝗥𝗜𝗔
ARIA is absolutely gorgeous…. like drop-dead gorgeous… with a personality to match. Her bright white accents provide a sharp contrast to her jet black coat. She is lovely! 
Her owners were going on a trip out of the country and weren't sure when they might be coming back, so they dropped her off at the county shelter! She was there over a week and became a volunteer favorite. We were asked to meet her and, of course, we loved her immediately – so, effective today, she's ready to start interviewing for her new family. 
Aria loads up nicely and is an excellent car rider, plus she's a great leash walker, too. Her previous owner said she's housetrained and great with kids of all ages. We haven't noticed any issues with other dogs; she's responded well to those she's met so far. To know her is to love her.
Aria is 2-years-old and 75 lbs. She needs to move into a foster home asap! To foster or adopt, please complete an application. Her adoption fee is $300 and includes her spay, microchip, Bordetella vaccine, Rabies vaccine and other vetting.
(𝘈𝘭𝘴𝘰, 𝘵𝘰 𝘢𝘯𝘴𝘸𝘦𝘳 𝘢 𝘱𝘳𝘦𝘷𝘪𝘰𝘶𝘴 𝘪𝘯𝘲𝘶𝘪𝘳𝘺, 𝘸𝘦 𝘩𝘢𝘷𝘦 𝘴𝘰 𝘧𝘢𝘳 𝘣𝘦𝘦𝘯 𝘶𝘯𝘢𝘣𝘭𝘦 𝘵𝘰 𝘵𝘦𝘴𝘵 𝘩𝘦𝘳 𝘸𝘪𝘵𝘩 𝘤𝘢𝘵𝘴, 𝘨𝘰𝘢𝘵𝘴, 𝘤𝘩𝘪𝘤𝘬𝘦𝘯𝘴 𝘢𝘯𝘥 𝘩𝘰𝘳𝘴𝘦𝘴. 𝘞𝘦'𝘳𝘦 𝘸𝘰𝘳𝘬𝘪𝘯𝘨 𝘰𝘯 𝘪𝘵, 𝘵𝘩𝘰𝘶𝘨𝘩 – 𝘓𝘖𝘓.)
If you are interested in meeting Aria, please complete an application today.
Last update: January 26, 2020