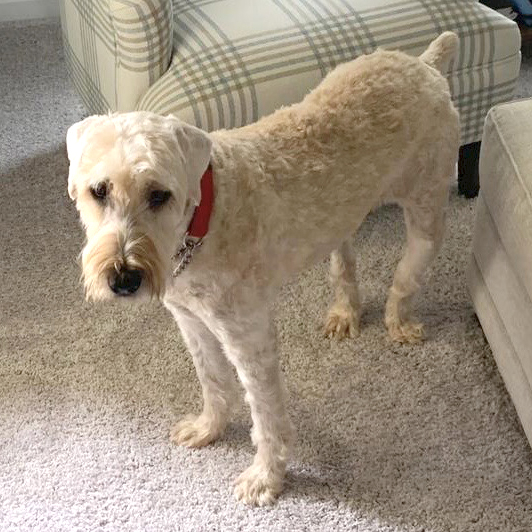 Apollo at a glance…
Current Name:
Apollo
Date of birth:
7/7/2014
Breed:
Wheaten Terrier

Weight:
60 lbs.

House-trained:
yes
Good with kids:
yes
Good with dogs:
yes
Likes cats?
We do not know
Please Welcome Apollo . . .
Six-year-old Apollo found himself in a rough spot when his family had a medical emergency – and could no longer care for him. They offered him online – needing a new home.  An older couple stepped up to help him but realized within a few days that he was just too strong and energetic for their home. 
Just like his short-term owners, we fell for him right away. What a sweet, sweet boy!  He's a Wheaten Terrier – a pure bred Wheatie who wants to be with you all the time.  And he's silly about his stuffed and squeaky toys – and ice cubes.
He had some flaky, dry patches on his back and other areas over his body when we first met him; there were also painful scabs on the ends of both ears from relentless scratching. A really good bath and very thorough brushings seem to have resolved much of his discomfort.  The ends of the ears took a good bit of work as they were very painful and irritated… but they look and feel much better now, and we expect him to heal quickly. A really good grooming and some TLC goes a long way. His coat is nice and soft… and he's quite snuggly.
Apollo's foster mom describes him as "awesome", saying he loves humans and other dogs. He waits by the door to let you know he has to go out. He likes to wrestle and play tug-of-war with his foster siblings — and going for a car ride makes his day.  
He does have a bit of separation anxiety, which is understandable considering all of the changes in his life recently. He doesn't like to be left alone at all.  There's nothing destroyed and no accidents… and he isn't extremely distressed or anything. But if he thinks you're leaving, he'll bark with a pleading, heartfelt "take meeeee!!!". Then he'll pace a bit – and go to lie down – and wait for your return.
Apollo doesn't do crates… he needs to be a free-roamer when left alone.  Once on a consistent schedule and when he feels like he's "home", he'll likely not be much bothered by your trips away.  Leaving him alone for a full workday won't work for this boy, though. Having a stay-at-home or work-from-home parent will be the best situation for him… and having another dog in the house will likely benefit him also.   
Anyone interested in making this boy a part of their family should know though that closed doors are not acceptable… unless he's on the same side of the door as you.  You will not know "alone" with Apollo in your home.
He also must, must, must sleep with you… He sleeps down at the feet of the bed, all  curled up; and he sleeps through the night without waking you. 
(Apollo is about 60 lbs.)  
If you're already approved to adopt from us, send us a message. His adoption fee is $400 and includes his Bordetella vaccine, Rabies vaccine, microchip and other vetting.
Last update: August 24, 2020