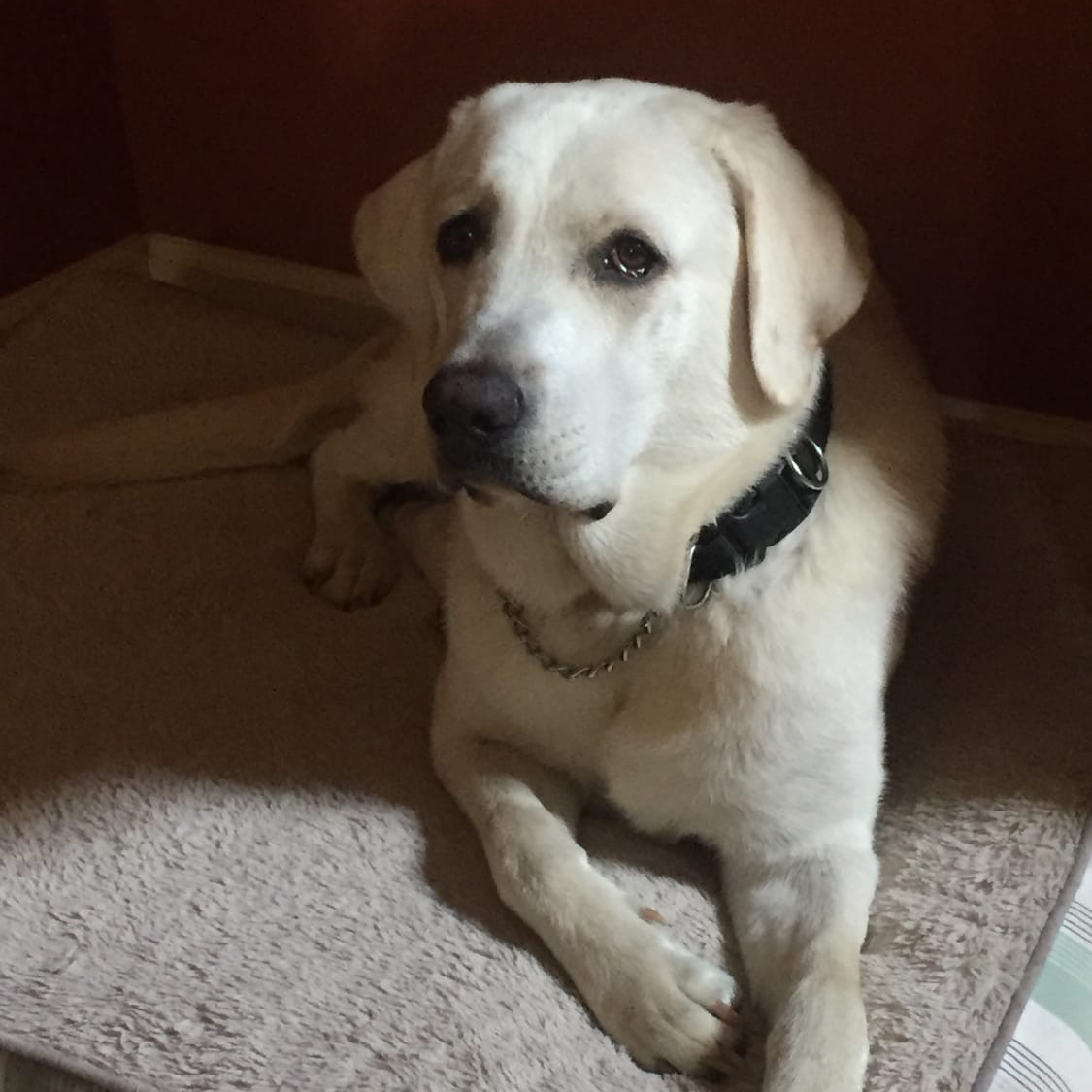 Ammo at a glance…
Current Name:
Ammo
Date of birth:
October 2019
Breed:
Labrador Retriever
Weight:
80 lbs.
House-trained:
Yes
Good with kids:
Great with children
Good with dogs:
Very excited to meet them!
Activity level:
Medium to high – loves to play

Fenced yard needed:
Yes – a "must"

Introducing Ammo . . .
Sweet Ammo is a BIG baby! Weighing in at 80 lbs, this boy is 10 months old and he has been described as a beautiful, affectionate goof ball who loves being with his people. He is a gentle giant with a friendly disposition. Ammo is very smart and he learns quickly. He is potty trained and knows how to sit, shake, lay down and (most of the time) come when asked. He is doing great on leash but when he sees other dogs to play with on walks, he pulls, jumps and barks with excitement so will do best wearing a harness. Ammo is not aggressive to other dogs, but is eager to meet them so will need a slow introduction. His biggest fear currently is being left alone for very long, so his new family will need to be one who is there with him most of the time and will leave him crated when he can't go along on errands, appointments, etc. Even if you leave the room, Ammo will come looking for you! We were told that he likes to swim; but we haven't found anything that he doesn't like to do, barring being left behind.
Ammo's foster family has a cat and he shows interest and barks, but does not seem to be agressive towards them. He loves meeting people, other dogs and he may stress a cat out with his attention.
This big fella came to us when his human mom found out that her pregnancy was high risk. She had to go on bed rest so could not take Ammo out and exercise him like he needed and wanted. She had to move in with her in-laws for help with her kids so she asked us to find him a great home.
A fenced yard is a "must" for Ammo's new home. He needs his exercise and loves to play fetch and has a medium to high energy level. He is still a puppy and will need reinforcement training for his manners.
His adoption fee is $500 and includes his neuter, microchip, Bordetella vaccine, DAPPv vaccines, Rabies vaccine and other vetting.
If you'd like to make Ammo a part of your family, please complete a Refuge Rescue application. 
Last update: August 10, 2020