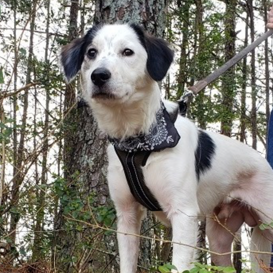 His Stats:
Current Name: Walker
Age: 1 year
Breed:  Australian Shepherd mix
Weight: 46 lbs.
His Story
𝗪𝗔𝗟𝗞𝗘𝗥 𝗛𝗔𝗦 𝗔𝗥𝗥𝗜𝗩𝗘𝗗
We agreed to take custody of him several weeks ago, but we didn't have a place for him to stay. Walker's family could no longer hold him, so an advocate brought him to us yesterday.
A few weeks ago, we also took in this family's most recent unwanted litter (The Trinkets). Walker is their big brother; the product of a previous unwanted litter. We're covering their mommy's spay surgery in order to end the cycle.
We're just getting to know him, so we'll do an update once he settles in. Right now he's shy and timid – but sweet. We expect him to come out of his shell soon. 
Will you give him the opportunity to get back into a home environment? He's a gorgeous Aussie mix, about a year old, and he lived with several other dogs without issues. He weighs about 45 lbs. His adoption fee is $300 and includes his upcoming neuter, microchip, Bordetella vaccine, Rabies vaccine and other vetting. If you'd like to meet Walker, please complete an application.  
Last update: March 1, 2020