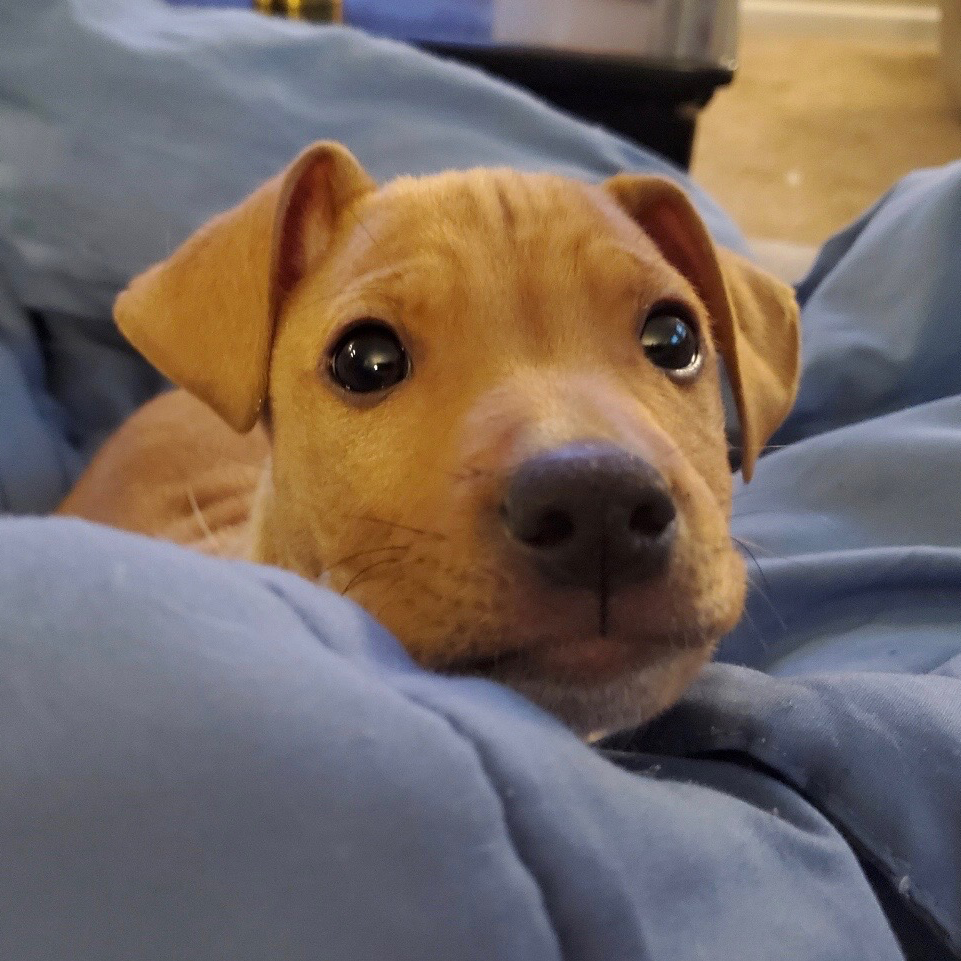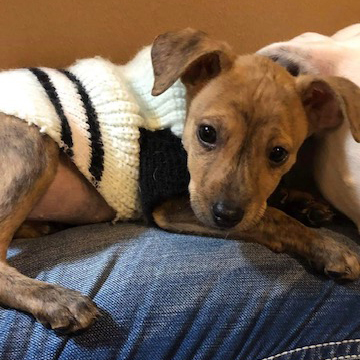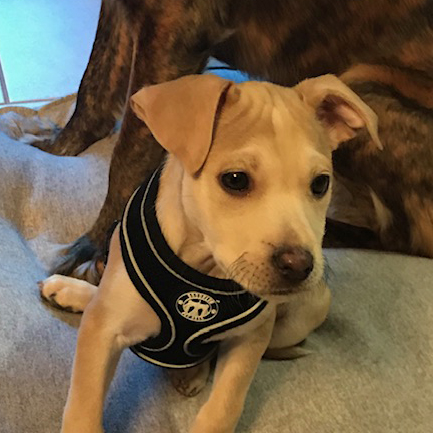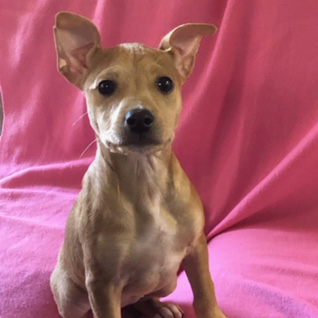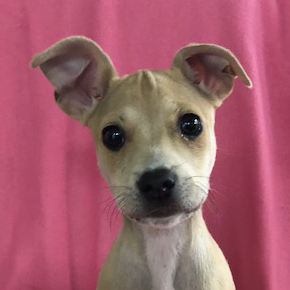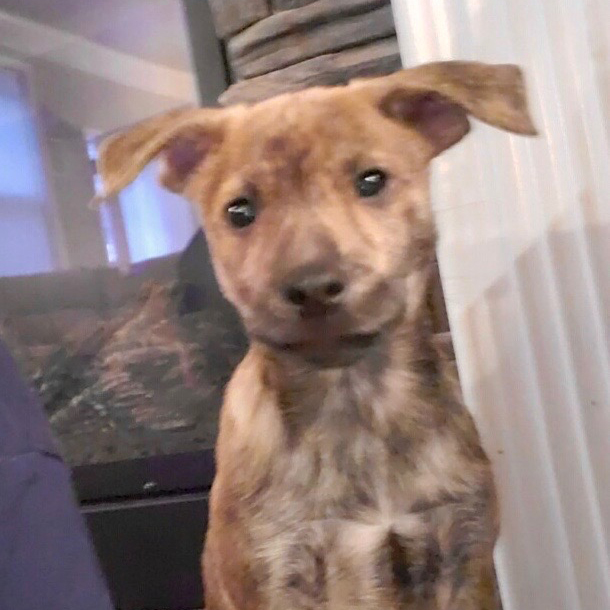 Harlow (Harley - adopted)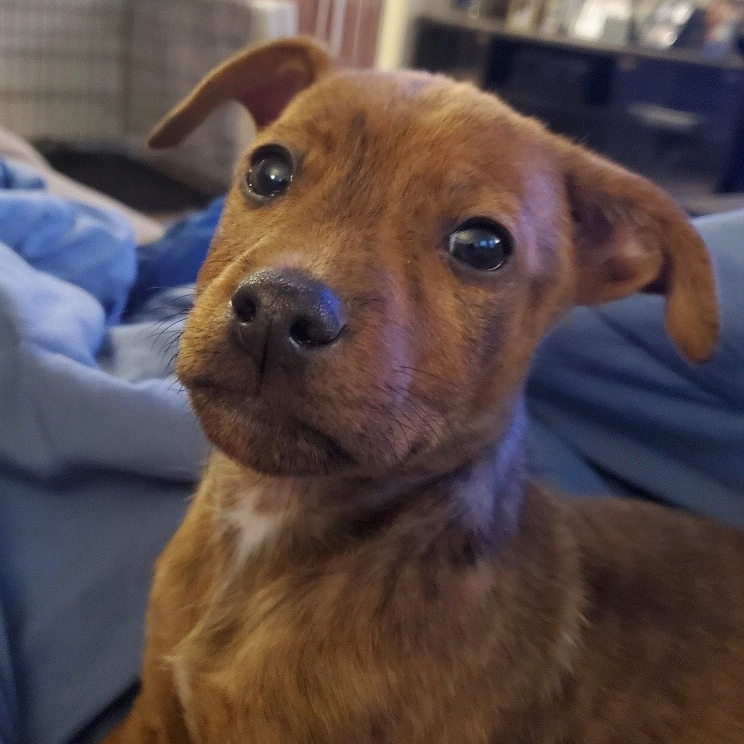 Their Stats:
Available pups: Huck 
DOB: 10/27/19
Breed: Lab/Pit/Shiba Inu mix
Weight: 14-16 lbs.
Well socialized

Friendly and confident

Leash training in progress

Playful

Potty training in progress
Their Story:
𝗪𝗵𝗮𝘁'𝘀 𝘁𝗵𝗮𝘁 𝗼𝗹𝗱 𝘀𝗮𝘆𝗶𝗻𝗴…𝗡𝗢 𝗚𝗢𝗢𝗗 𝗗𝗘𝗘𝗗 𝗚𝗢𝗘𝗦 𝗨𝗡𝗣𝗨𝗡𝗜𝗦𝗛𝗘𝗗?
It's a common saying for good people who do good things – but then struggle because of their kind actions. These are the kind of people we like to help – these heroes who do the right thing, no matter the potential impact.

That's what happened with the nice folks who saved a sweet Lab/Pibble from being given away on Craig's List. The previous owner said the dog was already spayed, so they went about getting her vaccinations up-to-date and welcomed her into their family. Things were going well, until they realized that she had become pregnant by the neighbors Shiba Inu.  🙁 She soon produced eight puppies!
Their rural shelter told these Good Samaritans their unexpected litter of eight would be euthanized, as they had no space. They refused to allow that to happen, so they worked to find homes for them – but were not having good luck. And the pups were getting bigger… Nine dogs are a lot to provide for and take care of when you only expected and intended to have one. 
When their landlord heard about the puppies, he threatened to evict the family. Then he called animal control to have the puppies picked up. Having fallen in love with them – and knowing they likely would not make it out of animal control alive, they called us and begged for help. 
They're here now and they're pretty darn cute – along with being very well-socialized and full of puppy playfulness and silliness. They're in really nice shape – very happy and healthy. They've been well-cared for and have had lots of love.  All but 3 of the puppies have been adopted. Harper is the smallest puppy in the litter and is a sweet little girl. Hobbs and Huck are the 2 boys ready to join your family! Both parents are in the 35-40 lb. range and have nice temperaments. If you'd like to adopt Harper, Hobbs or Huck, please fill out an application with the link below. The adoption fee is $350 and includes spay/neuter, microchip, Bordetella vaccine, booster vaccines, deworming and other vetting.
If you would like to adopt one of these cuties, click here to download the adoption application.
Last update: February 28, 2020