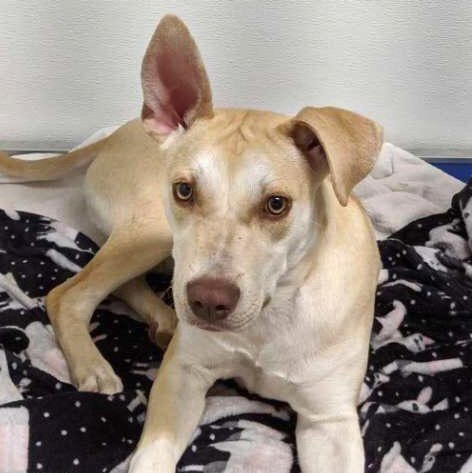 Her Stats:
Current Name: Dali
Age: 1 year
Breed: mixed breed
Weight: 25 lbs
Very friendly

Great with cats and dogs/pups

Potty trained

Walks well on leash
Her Story
𝗛𝗘𝗟𝗟𝗢 𝗗𝗔𝗟𝗜
A home healthcare worker contacted us for an elderly couple who are not well. They were looking for help finding a new home for this precious girl. Their grandchild gave them a pup, but they are unable to properly provide for her. They love her, but she's too young and requires more attention, exercise and care than they're able to offer. 
Dali is super friendly to everyone. She's about a year old and only weighs about 25 pounds. She's been living with Chihuahuas and cats – and has gotten along really well with the other pups in our Rescue Center. We expect her to do well with other friendly dogs she meets. She's a good girl! 
When it comes to breed guess, we really don't know… mystery mix is probably the closest we'll get.  🙂 We've had people suggest shepherd mix or lab mix or pit mix – and someone even suggested she looks like a tiny, shaved husky. LOL. We don't know. We don't care. We love her. Those ears though! They are beyond awesome. That right ear is always standing at attention… sometimes we think our radio reception gets better when she's in the room.
Dali needs a foster home! Please complete an application if you're interested in fostering – or adopting!
If you are interested in meeting Dali, please complete an application today.
Last update: January 26, 2020