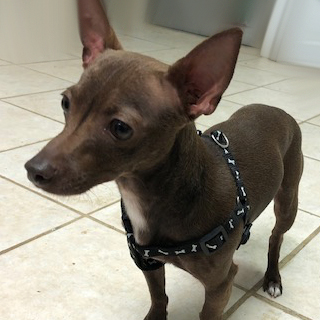 His Stats:
Current Name: Cocoa Puff
Age: 1 year
Breed: Chihuahua mix
Weight: 6 lbs
Sweet but timid

Nice to other dogs

Walks well on leash

Potty training in progress
His Story
SIX POUNDS – AND LIVING TIED UP, ALONE OUTSIDE!
Meet Cocoa Puff. He's a 1-year-old tiny boy that a good Samaritan noticed was always tied outside, all alone in a neighbor's yard. This teeny boy spent his life tethered and alone…. in a great big, scary, dangerous world.
This kind woman was finally able to convince the owner to release the dog to her – and she has asked us to help find him find his perfect home.
Cocoa Puff is frightened with so many new changes. He hasn't experienced much beyond his tie-out. Everything is new to him. He's fearful but still open to experiencing his new world with a little patient help. He's adjusting really well with the help of some friendly dogs – and people that lovingly hold him and spend time with him.
We think Cocoa Puff is a Miniature Pinscher X Chihuahua mix. He looks like a Min Pin, but he's pretty small. He's available for adoption now. His adoption fee is $300 and includes his neuter, microchip, Bordetella vaccine and other vetting.
If you are interested in meeting Cocoa Puff, please complete an application today.
Last update: December 24, 2019